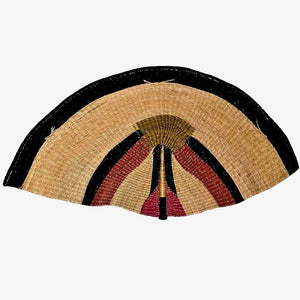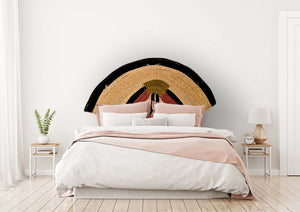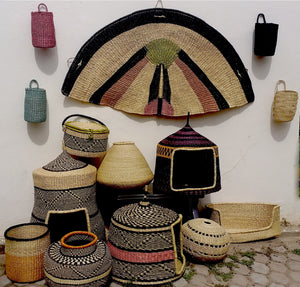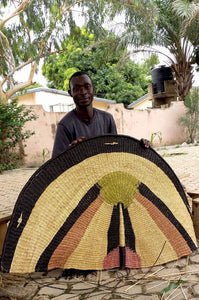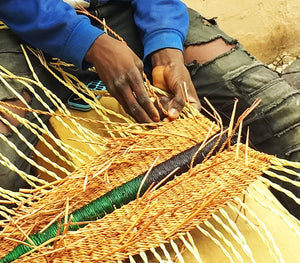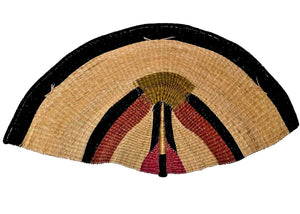 Boho Bolga Queen Headboard
Original, tasteful, and versatile.
Whether you use it as a headboard, art piece or selfie spot, this headboard is a major standout. Mount it behind your bed or use it to frame your space with a boho-inspired statement piece
Made Fairly:

These delicately textured and handcrafted woven headboards were made by groups of women in intimate communities in the Bolgatanga region of Ghana in an ethical, fair trade environment.

Grass for Elephants:

The material used is elephant grass which is only available in the southern part of Ghana. Kumasi to be precise. The grasses are harvested and dried up, which takes up to three (3) days. It's then tied together in big bundles and transported to the Bolga markets where most weavers buy their raw materials. The straw is then split, and rolled/twisted for texture before being dyed to give a vibrant color before weaving begins.
Artisans make things using traditional crafting methods in line with sustainable and eco-friendly practices.

The materials of the product can be broken down through environmentally harmless natural processes and are made from sustainable materials and plant by-products.

Materials that can decompose into soil whether through a natural process or in an industrial composting facility.

Products designed to cause the least harm to people and the environment through their production, disposal or both, often using reclaimed or recycled materials.

A formalized or witnessed organizational commitment to upholding moral standards including fairness, honesty, and expectations of responsiveness and accountability.

These products are made so that social, environmental, and economic standards are met to improve the lives of communities. Workers are ensured fair prices, livable wages, and direct and transparent deals.

Products made by hand on a small scale and are meant to last, all without using large energy-consuming factories and production facilities.

This ethical practise also aims to educate women and providing opportunities to support themselves, their communities, and encouraging other women to do the same.

Crafted with locally available resources typically derived from plants, animals, or other naturally occurring materials.

Materials that can be regeneratively produced like those made from plants and animals. This has a lower environmental impact compared to artificial products and metal.
Specifications
Product dimension: Approximately 60 inches W x 31.5 inches H
Product Care:

To clean or re-shape, simply wet it with cool water, shape it as needed, and allow it to air dry.
Avoid using chemicals or detergents.

Product of Origin: Handwoven in Ghana
Return Policy: Returns accepted within 30 days of delivery.
Shipping Info: 2 to 3 days, with one business day for processing.
Earth-friendly features
Features

This extraordinary handwoven headboard is made from eco-friendly, sustainably sourced, renewable materials by women artisans in a fair trade and ethical setting.

Material(s)

Elephant Grass: A favorite food and hiding place for elephants. It has low water and nutrient requirements and can grow in uncultivated lands. Rugged, fast-growing with a long lifespan. The stalk is used for weaving. Harvesting is done by cutting and is completely sustainable.
Organic Dye: Natural dyes are sustainable, eco-friendly, inexpensive, and very easy to source, being taken from plant sources like roots, berries, bark, leaves, wood, and fungi. It's also taken from certain insects and some minerals such as ochre. They are collected without the need to apply a manufacturing process, further diminishing its carbon footprint. Any waste from the process, and even the dye itself, is bio-degradable and non-polluting. Textile products colored with natural dyes are non-toxic, hypoallergenic, and baby-friendly.

End Of Life

Elephant grass and organic dyes are biodegradable and compostable.
For every

PRODUCT

you

PURCHASE,


a

Tree

is

Planted

in your

NAME.

* ALL SHIPPING IS 100% CARBON OFFSET