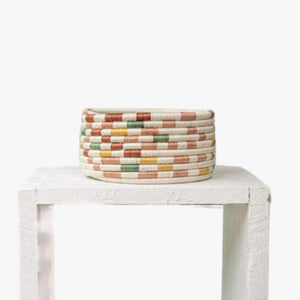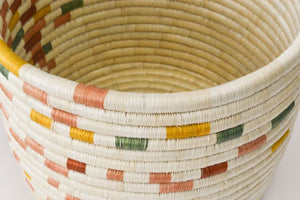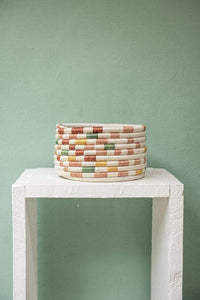 Guacamaya Small Fique Woven Basket
Our new line of storage and decorative baskets were hand woven by a cooperative of artisans from the Boyaca region of Colombia. Handwoven using a coil basket weaving technique, each individual basket is one of a kind in that no other is equal in design, making each basket special handmade treasures. 
Our small woven basket is an ideal basket to use as decorative planters or small storage. 
Products designed to cause the least harm to people and the environment through their production, disposal or both, often using reclaimed or recycled materials.

Products designed to meet current needs without compromising the ability of future generations to meet theirs. Design, materials, manufacturing, product transport, disposal, and social practices are aspects of sustainability.

This ethical practise also aims to educate women and providing opportunities to support themselves, their communities, and encouraging other women to do the same.

Products made by hand on a small scale and are meant to last, all without using large energy-consuming factories and production facilities.

Artisans make things using traditional crafting methods in line with sustainable and eco-friendly practices.

Crafted with locally available resources typically derived from plants, animals, or other naturally occurring materials.

The materials of the product can be broken down through environmentally harmless natural processes and are made from sustainable materials and plant by-products.

Materials that can be regeneratively produced like those made from plants and animals. This has a lower environmental impact compared to artificial products and metal.
Specifications
Product dimension: 8 inches x 5 inches / 20cm x 12cm
Product Care: Fique is a natural rough fiber that requires little maintenance. To wash it, use a wet rag with little soap and rub it directly. Wash off with wet rag and then dry with a drier cloth. Make sure the fibers are not soaking wet before air drying to avoid mold formation. Avoid direct sunlight for longer lasting vivid colors.
Product of Origin: Handmade by artisan women from Colombia
Return Policy: Returns within 14 days. Shipping costs apply.
Shipping Info: 2-6 Days with 3-5 days processing
Earth-friendly features
Features

This eco-friendly handwoven basket is made from a natural, sustainable, and renewable resource by women artisans in an ethical, fair trade environment.

Material(s)

Fique: Colombian fiber commonly used for rug and basket weaving. The fiber comes from the family of agave plants, and like hemp, it does not need any fertilizers or pesticides to grow. Making this fiber an natural organic fiber. It is also a fiber that needs very little water to grow, making it a very resourceful fiber and a great sustainable option for natural fibers.
Natural Dye: Natural dyes are sustainable, eco-friendly, inexpensive, and very easy to source, being taken from plant sources like roots, berries, bark, leaves, wood, and fungi. It's also taken from certain insects and some minerals such as ochre. They are collected without the need to apply a manufacturing process, further diminishing its carbon footprint. Any waste from the process, and even the dye itself, is bio-degradable and non-polluting. Textile products colored with natural dyes are non-toxic, hypoallergenic, and baby-friendly.

Made Without:

Plastics or synthetic fibers

End Of Life

Fique and Natural Dyes are biodegradable and compostable
For every

PRODUCT

you

PURCHASE,


a

Tree

is

Planted

in your

NAME.

* ALL SHIPPING IS 100% CARBON OFFSET