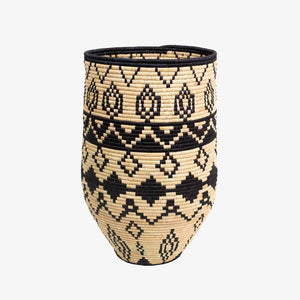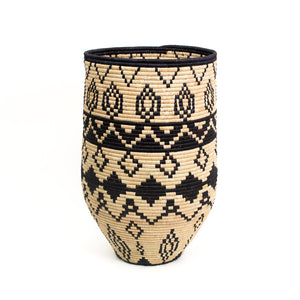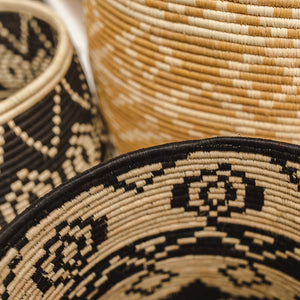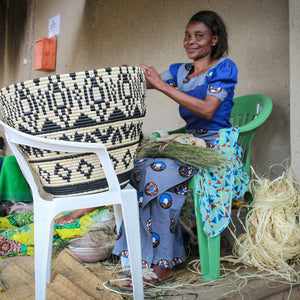 Aluna Hand Woven Large Floor Basket
Use this large basket as a trendy way to store anything from laundry to blankets to toys. Each hamper is made with all-natural and organic materials that age beautifully.
This basket was sustainably made with raffia and sweet grass in an ethical, fair trade environment by women across Africa.
Remarkable  Beauty:

A place to keep your things, from children and pets toys, to linens and laundry, this basket is made from materials that weathers time gracefully, only getting better the longer you keep it.  
Culture-filled Basket:

With basket weaving tradition that dates back thousands of years, this piece was made only in an ethical, fair trade environment. Handwoven by a cooperative of women located in Rwanda, this one-of-kind basket takes weeks to complete. 
Earth-friendly Features:

Handmade from raffia plant fibers and sweetgrass by skilled women artisans from Rwanda. This purchase guarantees fair, stage wages for the artist. Each basket is 100% eco-friendly.
Artisans make things using traditional crafting methods in line with sustainable and eco-friendly practices.

The materials of the product can be broken down through environmentally harmless natural processes and are made from sustainable materials and plant by-products.

The manufacturing approach aims to minimize waste with efficient design in order to maximize the function of each resource.

Materials that can decompose into soil whether through a natural process or in an industrial composting facility.

Products designed to cause the least harm to people and the environment through their production, disposal or both, often using reclaimed or recycled materials.

A formalized or witnessed organizational commitment to upholding moral standards including fairness, honesty, and expectations of responsiveness and accountability.

These products are made so that social, environmental, and economic standards are met to improve the lives of communities. Workers are ensured fair prices, livable wages, and direct and transparent deals.

Products made by hand on a small scale and are meant to last, all without using large energy-consuming factories and production facilities.

This ethical practise also aims to educate women and providing opportunities to support themselves, their communities, and encouraging other women to do the same.

Crafted with locally available resources typically derived from plants, animals, or other naturally occurring materials.
This item is currently sold out.
Specifications
Product dimension: 20 inches D x 35 inches H
Product Care:

Do not submerge or wash with water.
If necessary, use a damp cloth to wipe the vase clean.

Product of Origin: Handmade in Rwanda
Return Policy: Replace or exchange your item within 2 weeks of receiving the product.
Shipping Info: 3 business days via UPS
Earth-friendly features
Features

This eco-friendly basket handmade by artisans in Rwanda using ethical practices, and fair trade are an inspiration and a sustainable step to improving the lives of the craftspeople while keeping the environment in mind.

Material(s)

Sweetgrass: Sweet grass, also known as vanillagrass, mannagrass, and holy grass, is revered as a sacred plant and is harvested as a material for baskets, as well as a scent, medicine, and smudge. Its sweet scent is more evident when the leaves are dried. Sweetgrass basket making is a crucial element of African cultural tradition. The descendants of enslaved Africans possess an intimate, loyal, and loving bond of their ancestry and heritage in colonial America and Africa.
Organic Dyes: Natural dyes are sustainable, eco-friendly, inexpensive, and very easy to source, being taken from plant sources like roots, berries, bark, leaves, wood, and fungi. It's also taken from certain insects and some minerals such as ochre. They are collected without the need to apply a manufacturing process, further diminishing its carbon footprint. Any waste from the process, and even the dye itself, is bio-degradable and non-polluting. Textile products colored with natural dyes are non-toxic, hypoallergenic, and baby-friendly.
Plant Fibers: Plant fibers are widely used in many handicrafts because they are extremely sustainable and eco-friendly as well as being biodegradable and renewable. They are readily available which is why it is a favorite, low-cost option when creating premium products that do not harm the environment without sacrificing quality standards.

End Of Life

Both compostable and biodegradable
For every

PRODUCT

you

PURCHASE,


a

Tree

is

Planted

in your

NAME.

* ALL SHIPPING IS 100% CARBON OFFSET