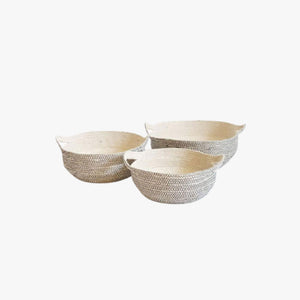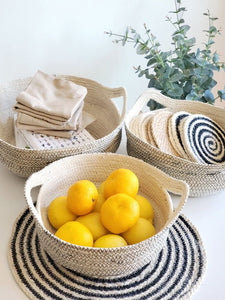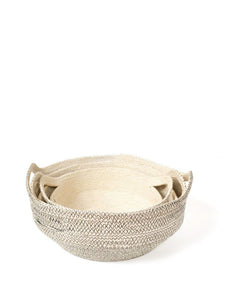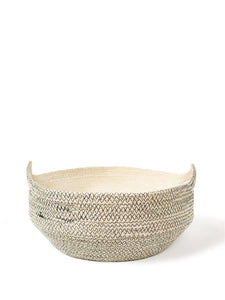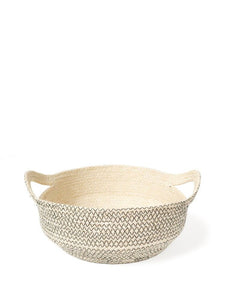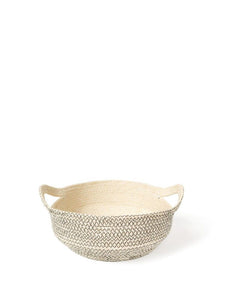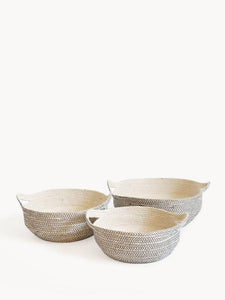 Amari Fruit Bowl - Black (Set of 3)
Say Hello to our Must-have Storage Trio. Handwoven and color stitched jute baskets are simple, yet stunning designs that are beautiful and functional. Place them in your living room, kitchen, dining area, or any area you can think of. They blend well with any style decor.
Fair and Artistic:

Each product is meticulously designed and curated. The materials are sustainable and the products are handmade by Fair Trade artisans in Bangladesh. Your purchase of this product ensures that the craftswoman who created this receives a fair price for her efforts that in turn helps to elevate her and her family in their community.
Products designed to cause the least harm to people and the environment through their production, disposal or both, often using reclaimed or recycled materials.

Products designed to meet current needs without compromising the ability of future generations to meet theirs. Design, materials, manufacturing, product transport, disposal, and social practices are aspects of sustainability.

These products are made so that social, environmental, and economic standards are met to improve the lives of communities. Workers are ensured fair prices, livable wages, and direct and transparent deals.

A formalized or witnessed organizational commitment to upholding moral standards including fairness, honesty, and expectations of responsiveness and accountability.

This ethical practise also aims to educate women and providing opportunities to support themselves, their communities, and encouraging other women to do the same.

Products made by hand on a small scale and are meant to last, all without using large energy-consuming factories and production facilities.

Artisans make things using traditional crafting methods in line with sustainable and eco-friendly practices.

Crafted with locally available resources typically derived from plants, animals, or other naturally occurring materials.

The materials of the product can be broken down through environmentally harmless natural processes and are made from sustainable materials and plant by-products.

Materials that can be regeneratively produced like those made from plants and animals. This has a lower environmental impact compared to artificial products and metal.
Specifications
Product dimension: Approximately

Large: 5 inches tall x 14 inches round
Medium: 4.75 inches tall x 12 inches round
Small: 4 inches tall x 10 inches round

Colors/Variations, etc:

Off-White with Black Stitch
Due to the handcrafted nature, slight variation will occur in design, color, and size.

Product Care:

Dust or vacuum your basket on a regular basis, wiping with a damp cloth if necessary.
Do not rub stains or spills from your basket as this may spread the stain and loosen the jute fibers.
Be sure to dry properly after water damage.
Be sure to keep out of direct sunlight, or color can change and fade.

Product of Origin: Handmade in Bangladesh.
Return Policy: Returns within 14 days. Shipping costs apply.
Shipping Info: 3-7 Days with 1-2 days processing
Earth-friendly features
Features

This eco-friendly fruit bowl is made from a natural, sustainable, and renewable resource by women artisans in an ethical, fair trade environment.

Material(s)

Jute: This is the second-most important vegetable fiber after cotton, but is even more sustainable. It matures quickly, needs less water, maintenance, pesticides, and fertilization to yield significant crops. It is biodegradable and has minimal environmental impact. The fibers are strong and durable. The plant has potential for making paper, and as a sustainable wood source.

Made Without:

Plastics or synthetic fibers

End Of Life

Jute is biodegradable and compostable
For every

PRODUCT

you

PURCHASE,


a

Tree

is

Planted

in your

NAME.

* ALL SHIPPING IS 100% CARBON OFFSET