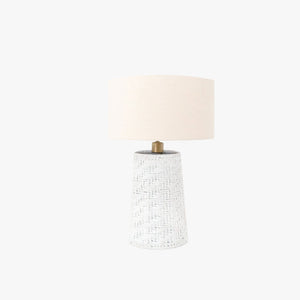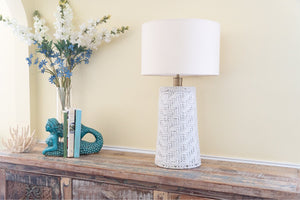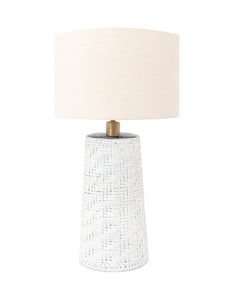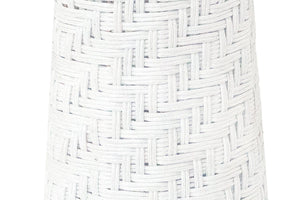 Coastal Handwoven Rope Table Lamp
The perfect lamp for any coastal home, we took nautical white rope and weaved this intricate pattern for the lamp's base. The Coastal Handwoven Rope Table Lamp pairs perfectly with our Handwoven Storage Side Table.
Rope and Iron:

White nautical rope woven into an elaborate herringbone pattern and its off white shade conceal the iron base that provides the stable flooring for this coastal inspired lamp. The iron is one of the most sustainable products to use as it's the most recycled metal available, and can be re-used an almost infinite number of times.
Artisans make things using traditional crafting methods in line with sustainable and eco-friendly practices.

Designed and produced using innovative techniques to measure, offset, and reduce carbon emissions.

A formalized or witnessed organizational commitment to upholding moral standards including fairness, honesty, and expectations of responsiveness and accountability.

These products are made so that social, environmental, and economic standards are met to improve the lives of communities. Workers are ensured fair prices, livable wages, and direct and transparent deals.

Products made by hand on a small scale and are meant to last, all without using large energy-consuming factories and production facilities.

This ethical practise also aims to educate women and providing opportunities to support themselves, their communities, and encouraging other women to do the same.

Materials that can be recovered and reprocessed into base materials to turn into new products.

Awareness of where materials for a product are procured ensuring they are done so in a sustainable and eco-friendly manner.

Products designed to meet current needs without compromising the ability of future generations to meet theirs. Design, materials, manufacturing, product transport, disposal, and social practices are aspects of sustainability.
This item is currently sold out.
Specifications
Product dimension:

Lamp Size: 8 inches Diameter x 20 inches Height
Shade Size: 14 inches Diameter x 9 inches Height
Total Lamp Size Including Shade: 14 inches x 14 inches x 25.5 inches H

Colors/Variations, etc:

Rope Color: White
Color: Off White Slub
Metal color: Shiny Brass

Product of Origin: Made in India
Return Policy: Returns accepted within 30 days of delivery.
Shipping Info: Standard shipping arrives in 4 to 6 days, with one business day for processing.
Earth-friendly features
Features

An artisanal table lamp handmade using a nearly infinitely recyclable material in iron. Ethical practices and fair trade accentuate the social value of this item that helps the craftswomen who made this lamp.

Material(s)

Iron: Iron is one of the most sustainable materials that is used for producing various products all over the globe. Recycle it numerous times and it can still produce products of equal quality with the original one. The entire recycling process poses no harm to the environment and is actually a much better alternative than producing new ones from scratch since it lessens carbon emissions by 82%

End Of Life
For every

PRODUCT

you

PURCHASE,


a

Tree

is

Planted

in your

NAME.

* ALL SHIPPING IS 100% CARBON OFFSET