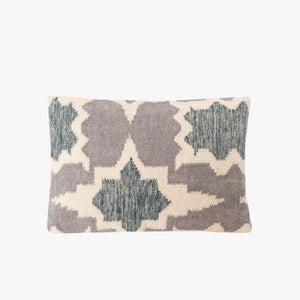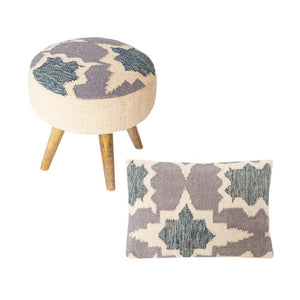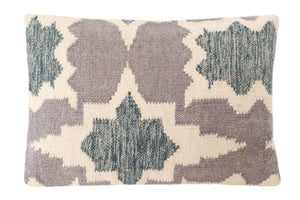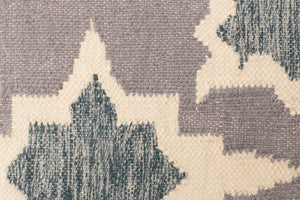 Handwoven Indigo Patterned Pillow
The Handwoven Indigo Patterned Pillow is designed with two tones of Indigo yarns that are handwoven into this unique pattern that has a matching stool.
Comfort and Charm:

The softness of the pillow coupled with its lovely design makes for a pattern that has global and modern appeal that will sit well in any comfort space in your home, be it your living room, nursery, home office… anywhere really.

Fabric that Sustains:

Wool comes mostly from sheep, but can also come from goats, yaks, llamas, alpacas, and camels all without harming the animals. With several animal sources available, it's a completely natural product that's renewable, biodegradable, and also recyclable.
Artisans make things using traditional crafting methods in line with sustainable and eco-friendly practices.

Materials that can decompose into soil whether through a natural process or in an industrial composting facility.

Products designed to cause the least harm to people and the environment through their production, disposal or both, often using reclaimed or recycled materials.

A formalized or witnessed organizational commitment to upholding moral standards including fairness, honesty, and expectations of responsiveness and accountability.

These products are made so that social, environmental, and economic standards are met to improve the lives of communities. Workers are ensured fair prices, livable wages, and direct and transparent deals.

Products made by hand on a small scale and are meant to last, all without using large energy-consuming factories and production facilities.

This ethical practise also aims to educate women and providing opportunities to support themselves, their communities, and encouraging other women to do the same.

Crafted with locally available resources typically derived from plants, animals, or other naturally occurring materials.

Materials that can be recovered and reprocessed into base materials to turn into new products.
$96.00
Specifications
Product dimension: 14 inches x 20 inches
Colors/Variations, etc:

Front: Handwoven Indigo Pattern 90% wool 10% cotton
Back: Off White 100% Cotton Canvas
Concealed zipper closure on back side.

Product Care: Hand wash or a delicate cycle with like colored fabrics recommended. Hang to Dry.
Product of Origin: Made in India
Return Policy: Returns accepted within 30 days of delivery.
Shipping Info: Standard shipping arrives in 4 to 6 days, with one business day for processing.
Earth-friendly features
Features

This Handwoven Indigo Patterned Pillow uses completely natural, and renewable materials which are made by women artisans in an ethical and fair trade environment.

Material(s)

Wool: Wool production consumes less energy and has a smaller carbon footprint than other textile fibers. It is sustainable, renewable, is entirely natural, fully biodegradable, and is the most reused and recyclable cloth fiber of the major cloth fibers.

Made Without:
End Of Life
Compostable, Biodegradable, and Recyclable
For every

PRODUCT

you

PURCHASE,


a

Tree

is

Planted

in your

NAME.

* ALL SHIPPING IS 100% CARBON OFFSET