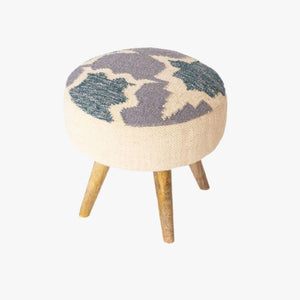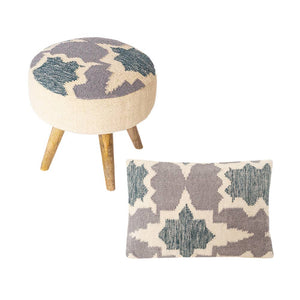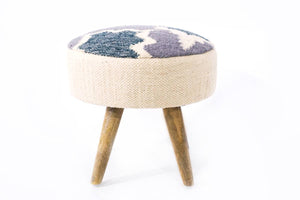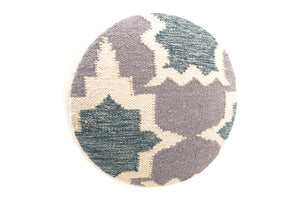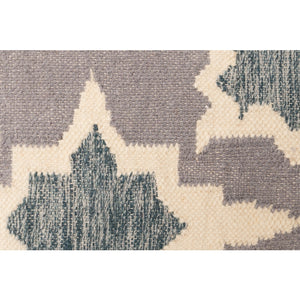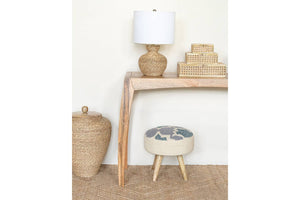 Handwoven Indigo Patterned Stool
Put your feet up on this ocean inspired stool and you too will feel as if you are gazing out on a sweeping view of the Andaman Sea. 
Wool fibers were used when hand weaving this stool which creates a really durable fabric. These stools are great for a living room or even kids room. 
Strong and Beautiful:

Built to last doesn't need to mean ugly. This stool is proof of that. A decorative piece with purpose that won't break easily with its intended use.

Practically Maintenance Free:

Built in such a way that you can use it the way you need to, and if you need to clean it, it won't take very much effort, and more importantly, time. 

Eco-friendly Production:

Wool fibers, MDF base, and the Mango wood legs are all meant to be sustainable and eco-friendly in its choice of materials as well as in it's production.
Artisans make things using traditional crafting methods in line with sustainable and eco-friendly practices.

The materials of the product can be broken down through environmentally harmless natural processes and are made from sustainable materials and plant by-products.

Materials that can decompose into soil whether through a natural process or in an industrial composting facility.

Products designed to cause the least harm to people and the environment through their production, disposal or both, often using reclaimed or recycled materials.

A formalized or witnessed organizational commitment to upholding moral standards including fairness, honesty, and expectations of responsiveness and accountability.

These products are made so that social, environmental, and economic standards are met to improve the lives of communities. Workers are ensured fair prices, livable wages, and direct and transparent deals.

Products made by hand on a small scale and are meant to last, all without using large energy-consuming factories and production facilities.

This ethical practise also aims to educate women and providing opportunities to support themselves, their communities, and encouraging other women to do the same.

Crafted with locally available resources typically derived from plants, animals, or other naturally occurring materials.

Materials that can be recovered and reprocessed into base materials to turn into new products.
This item is currently sold out.
Specifications
Product dimension: 15 inches W x 14 inches H
Weight: 8 lb.
Product Care: Dab lightly with damp cloth to clean
Place of Origin: Made in India
Return Policy: Returns accepted within 30 days of delivery.
Shipping Info: Standard shipping arrives in 4 to 6 days, with one business day for processing.
Earth-friendly features
Features

This charming patterned stool is handmade by women artisans in a sustainable way using renewable and recycled materials in an ethical and fair trade setting.

Material(s)

Mango Wood: Mango wood is a highly sustainable hardwood as it's cultivated as a fruit tree. They mature after about 15 years when they begin to produce less fruit, or stop altogether, at which point the tree is harvested for its wood. Mango tree wood is an eco-friendly choice for producing furniture.
Wool Fabric: Wool production consumes less energy and has a smaller carbon footprint than other textile fibers. It is sustainable, renewable, is entirely natural, fully biodegradable, and is the most reused and recyclable cloth fiber of the major cloth fibers.

End Of Life

Mango wood can be repurposed, and wool can be recycled and is also biodegradable and compostable
For every

PRODUCT

you

PURCHASE,


a

Tree

is

Planted

in your

NAME.

* ALL SHIPPING IS 100% CARBON OFFSET