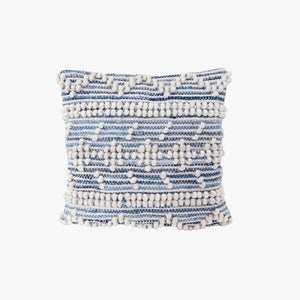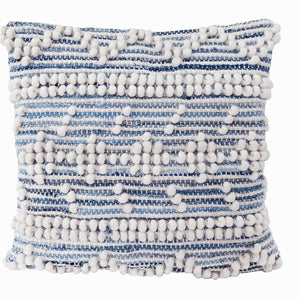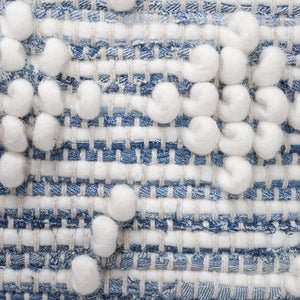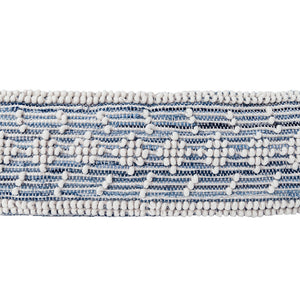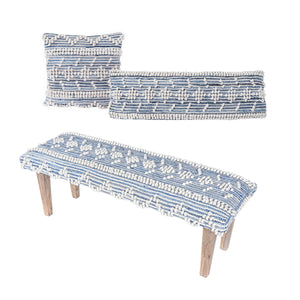 Handwoven Recycled Denim Pillow
Instead of disposing of excess denim, we recycle + repurpose the denim fabric into strips that are handwoven creating this unique pattern. The fabric is used for the Handwoven Recycled Denim Pillow and our matching bench.
Uniquely Earthly:

The handwoven nature of the production process makes each pillow unique and showcases the skill of the artisan through this patiently crafted piece.

Value Beyond Product:

This artisanal

Handwoven Recycled Denim Pillow

was made with a mindful effort for the environment and our fellow human beings. Following fair trade and ethical practices, this product was made by women using responsibly sourced materials to be as sustainable as possible.
Artisans make things using traditional crafting methods in line with sustainable and eco-friendly practices.

The materials of the product can be broken down through environmentally harmless natural processes and are made from sustainable materials and plant by-products.

The manufacturing approach aims to minimize waste with efficient design in order to maximize the function of each resource.

Materials that can decompose into soil whether through a natural process or in an industrial composting facility.

A formalized or witnessed organizational commitment to upholding moral standards including fairness, honesty, and expectations of responsiveness and accountability.

These products are made so that social, environmental, and economic standards are met to improve the lives of communities. Workers are ensured fair prices, livable wages, and direct and transparent deals.

Products made by hand on a small scale and are meant to last, all without using large energy-consuming factories and production facilities.

This ethical practise also aims to educate women and providing opportunities to support themselves, their communities, and encouraging other women to do the same.

Materials that can be recovered and reprocessed into base materials to turn into new products.

Materials that have been recovered and recycled reducing the need to expend energy sourcing new material.
$145.00
Specifications
Product dimension: 20 inches W x 20 inches L
Colors/Variations, etc:

Front: Handwoven Denim and Off-White Yarns
Back: Off White Cotton Canvas

Other features: Concealed zipper closure on back side.
Product care: Hand wash or a delicate cycle with like colored fabrics recommended. Hang to Dry.
Place of Origin: Made in India
Return Policy: Returns accepted within 30 days of delivery.
Shipping Info: 4 to 6 days, with one business day for processing.
Earth-friendly features
Features

Recycling denim ensures longevity of the material further reducing waste, and being made by women in an ethical and fair trade environment is a conscious effort to improve the lives of the artists who make this product possible.

Material(s)

Repurposed Denim Fabric: Upcycling Denim is an eco-friendly method to reduce the use of new raw materials. Creating new denim requires a lot of energy and resources. Repurposing gives life to old denim, extends the time it's going to be used, and produces something new and potentially more valuable.

End Of Life

Recyclable, compostable and biodegradable
For every

PRODUCT

you

PURCHASE,


a

Tree

is

Planted

in your

NAME.

* ALL SHIPPING IS 100% CARBON OFFSET