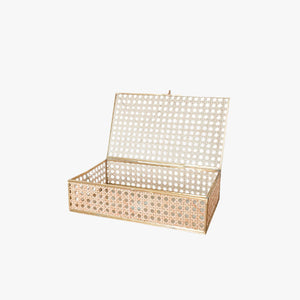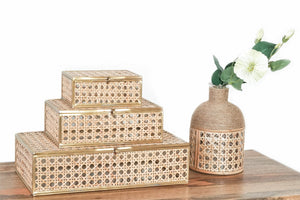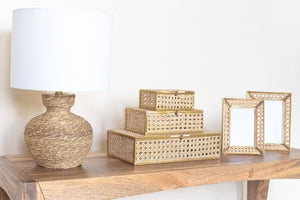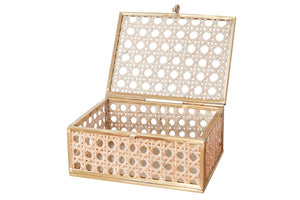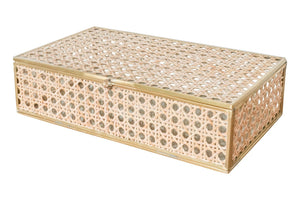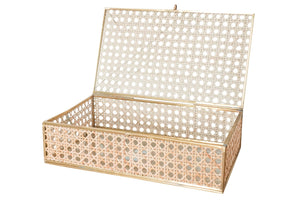 Natural Cane Wicker Jewelry Decor Box
Store your jewelry and accessories in our Natural Cane Jewelry Wicker Decor Box. This sophisticated jewelry decor box provides ample storage while accenting your space. 
Delicate, Timeless, Strong:

Cane Wicker is applied onto glass and finished with a metal edge; a technique that combines a trendy material with a timeless and luxurious look. Comes in 3 different sizes.

Glass, Brass, and Cane Wicker:

An unlikely trio of ingredients that come together to form this beautiful treasure box. Glass and Brass are infinitely recyclable, and cane wicker is one of the most renewable and sustainable plant resources available. All in all a very eco-friendly product that is a treasure in itself.
Artisans make things using traditional crafting methods in line with sustainable and eco-friendly practices.

The materials of the product can be broken down through environmentally harmless natural processes and are made from sustainable materials and plant by-products.

Materials that can decompose into soil whether through a natural process or in an industrial composting facility.

Products designed to cause the least harm to people and the environment through their production, disposal or both, often using reclaimed or recycled materials.

A formalized or witnessed organizational commitment to upholding moral standards including fairness, honesty, and expectations of responsiveness and accountability.

These products are made so that social, environmental, and economic standards are met to improve the lives of communities. Workers are ensured fair prices, livable wages, and direct and transparent deals.

Products made by hand on a small scale and are meant to last, all without using large energy-consuming factories and production facilities.

This ethical practise also aims to educate women and providing opportunities to support themselves, their communities, and encouraging other women to do the same.

Crafted with locally available resources typically derived from plants, animals, or other naturally occurring materials.
$100.00
This item is currently sold out.
Specifications
Product dimension:

Small: 6 inches W x 3 inches H x 4.25 inches D
Medium: 9 inches W x 3 inches H x 6 inches D
Large: 13.5 inches W x 3.5 inches H x 8 inches D

Product Care: Wipe Clean
Product of Origin: Made in India
Return Policy: Returns accepted within 30 days of delivery.
Shipping Info: 4 to 6 days, with one business day for processing

Earth-friendly features
Features

This jewelry decor box is made from sustainable materials than can either be renewed or recycled nearly indefinitely and is made in an ethical, fair trade environment by women artisans from India

Material(s)

Wicker: Typically made from rattan which is renewable and grows rapidly. Growing them also requires very little care and water which makes them one of the most eco-friendly resources available.
Glass: An eco-friendly and sustainable material used all over the globe for various purposes. Although it has got its pros and cons, there's no mistake that glass is absolutely a better alternative compared to plastic especially if people do not find a way to recycle them. Glass can be reused or recycled endlessly without losing its premium quality and only causing minimum to no impact to our environment.
Brass: Brass is capable of being recycled infinitely without damaging the environment. New products created through recycled brass also retain the same durability and build quality as the original since the recycling process does not lose its physical or chemical properties making it a sustainable and cost-effective option in producing goods.

Made Without:
End Of Life

Biodegradable, Compostable, Recyclable
For every

PRODUCT

you

PURCHASE,


a

Tree

is

Planted

in your

NAME.

* ALL SHIPPING IS 100% CARBON OFFSET