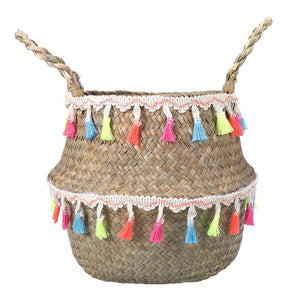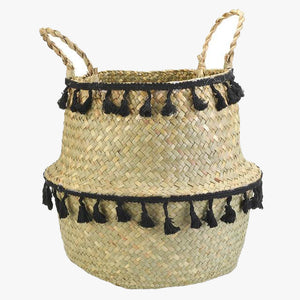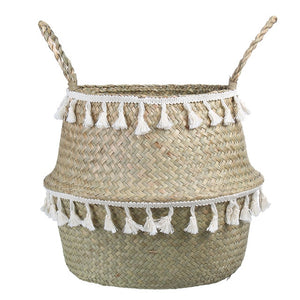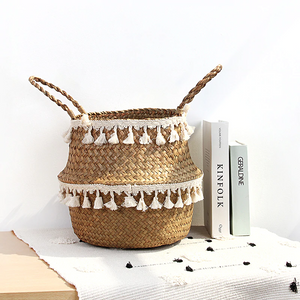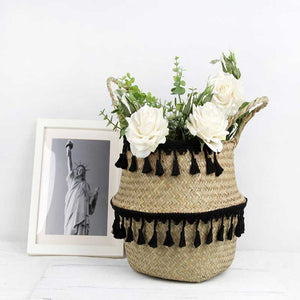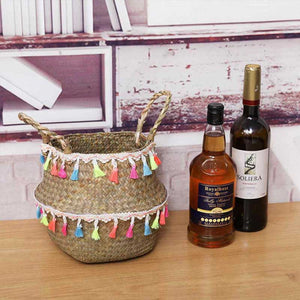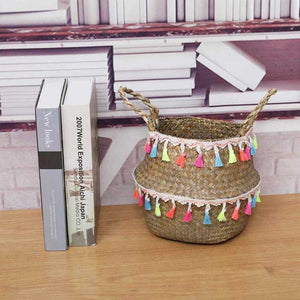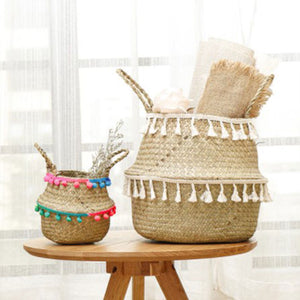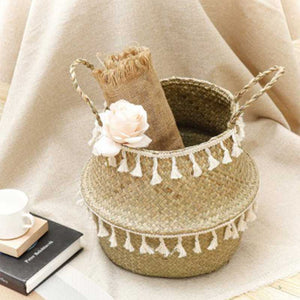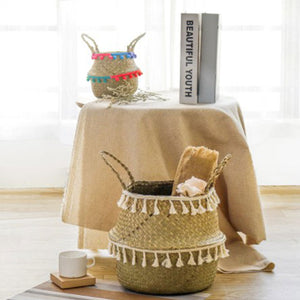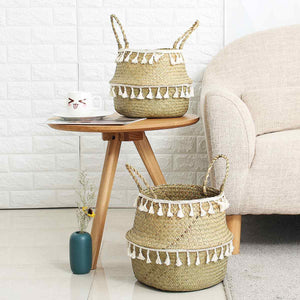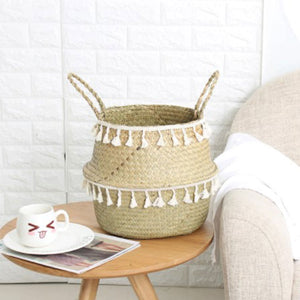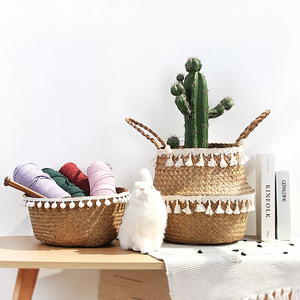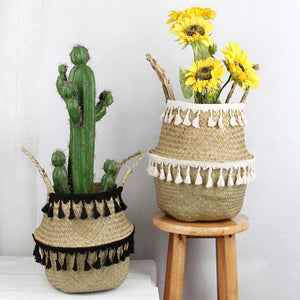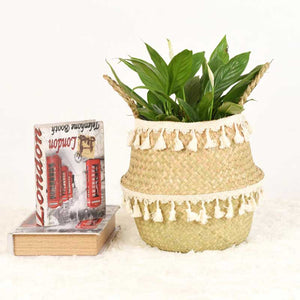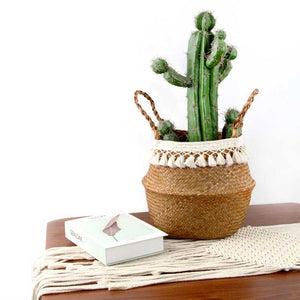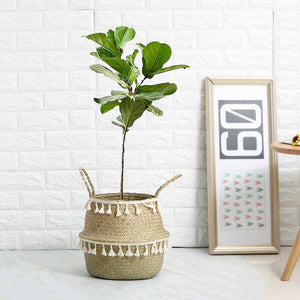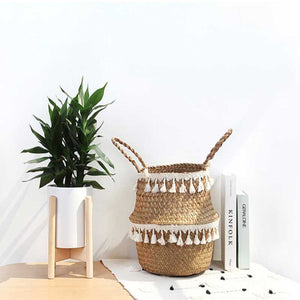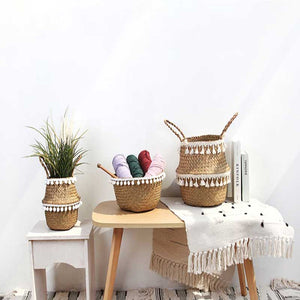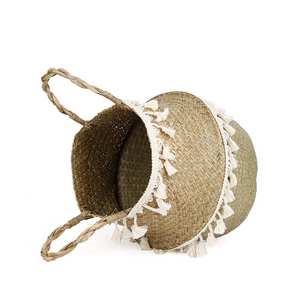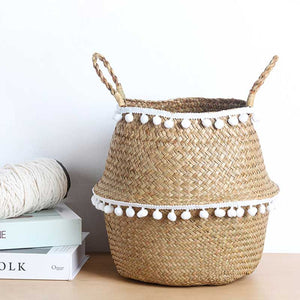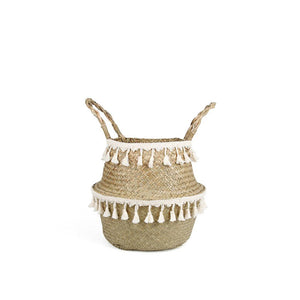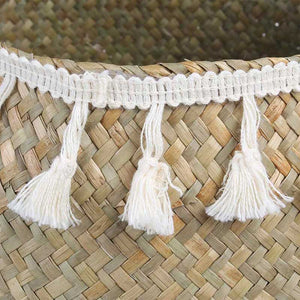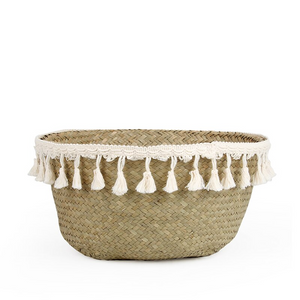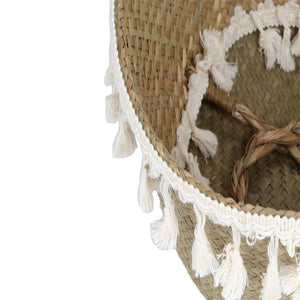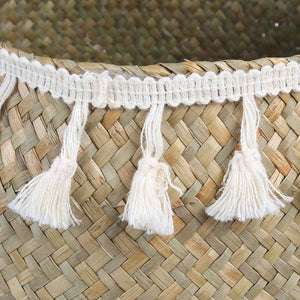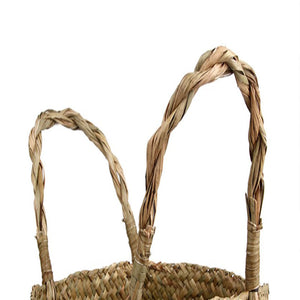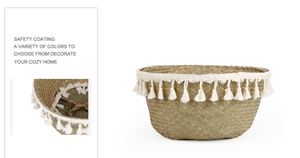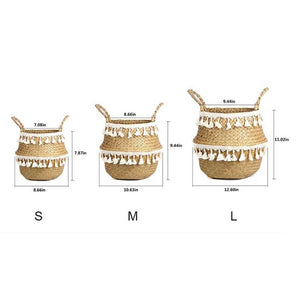 Seagrass Basket with Tassels
This beautifully hand-woven Seagrass Basket with Tassels is perfect for storing items throughout your home or office. Use them for toys, magazines, towels, blankets, throws, or displaying flowers or plants. It's made from natural materials and is eco-friendly. 
Handles Up or Down:

Use our Seagrass Baskets with the handles out for greater capacity, or with the handles down for top-wide pots, to save space, or as a bowl basket.
Function and Beauty:

Looks great as decor, as a grocery or a picnic basket, as a plant pot covers, and as a toy organizer. Our Seagrass Basket fits well in any part of the house, be it the corridor, living room, children's room, bathroom, or balcony space.
Made from Nature:
This handmade Seagrass Basket is made from all-natural seagrass which has been harvested sustainably, then processed in an ecologically friendly manner with little to no environmental impact.
The materials of the product can be broken down through environmentally harmless natural processes and are made from sustainable materials and plant by-products.

Materials that can decompose into soil whether through a natural process or in an industrial composting facility.

Products designed to cause the least harm to people and the environment through their production, disposal or both, often using reclaimed or recycled materials.

Products made by hand on a small scale and are meant to last, all without using large energy-consuming factories and production facilities.

Crafted with locally available resources typically derived from plants, animals, or other naturally occurring materials.

Materials that can be regeneratively produced like those made from plants and animals. This has a lower environmental impact compared to artificial products and metal.

Products designed to meet current needs without compromising the ability of future generations to meet theirs. Design, materials, manufacturing, product transport, disposal, and social practices are aspects of sustainability.
$19.00
Specifications
Product dimension: .

XS: 6.30 inches D x 5.12 inches H
S: 7.48 inches D x6.69 inches H
M: 8.66 inches D x 7.87 inches H
L: 10.63 inches D x 9.44 inches H
XL: 12.60 inches D x11.02 inches H

Colors/Variations, etc: Natural wicker with Black, White, or Colored Tassels
Product Care:

Can be washed directly with water, or wiped with a damp cloth.
The basket does not have a wire and may deform when squeezed. If the bottom is not flat, flatten it again.

Shipping & Returns: Please refer to our General Shipping and Return Policy.
Earth-friendly features
Features

This handmade seagrass basket is made from a natural and renewable resource. As an alternative to synthetic materials, it is eco-friendly, and sustainable.

Material(s)

Seagrass: A fast growing grass in the sea. It can be sustainably farmed, and processed in an ecologically friendly manner specifically for seagrass weaving. It is lightweight, biodegradable, and is an alternative to plastic as a weaving material.

End Of Life

Both compostable and biodegradable
For every

PRODUCT

you

PURCHASE,


a

Tree

is

Planted

in your

NAME.

* ALL SHIPPING IS 100% CARBON OFFSET