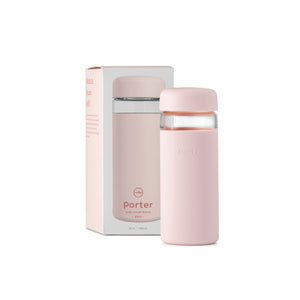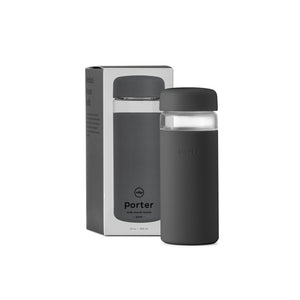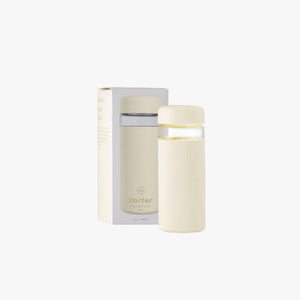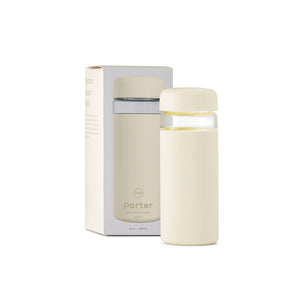 Upgrade hydration with the sleek, simple Porter Glass Water Bottle. Constructed from durable, lightweight glass with a protective silicone sleeve & twist-off cap. 
Healthy and Smart:

Healthy habits start with smart tools. From smoothies to shakes, juice to bone broth, enjoy wellness elixirs on-the-go. This wide mouth glass bottle offers leak-proof protection, wrapped in protective matte silicone.

Your Safety In Mind:

This bottle is dishwasher safe, made from BPA-free glass, so it won't leach harmful toxins or absorb taste & odor like plastic or metal. Crafted from premium borosilicate glass and designed to withstand years of daily use.

Sustainable Lifestyle:

This reusable bottle is a sustainable replacement for disposable plastic bottles & metal canteens, allowing you to do your part in saving the environment and staying healthy in the now, and for the future.
Products designed to cause the least harm to people and the environment through their production, disposal or both, often using reclaimed or recycled materials.

The movement to re-use, reduce, recycle, and the like in order to lessen environmental impact and make efficient use of resources.
$35.00
Specifications
Product dimension: 2.8 inches L x 2.8 inches W x 7.3 inches H
Colors/Variations, etc: Cream, Charcoal, Blush
Return Policy: Returns within 30 days. Shipping Fees Apply
Shipping Info: 5-7 Business Days
Earth-friendly features
Features:

This reusable wide mouth bottle aims to reduce the waste of single use plastic bottles to reduce our impact on the environment for a more sustainable future.

Material(s)

Glass: An eco-friendly and sustainable material used all over the globe for various purposes. Although it has pros and cons, glass is a better alternative compared to single use plastic, especially products that are not properly washed and recycled. Borosilicate glass is technically recyclable but not through home recycling systems. At this time borosilicate glass products are most effectively repurposed as containers.
Silicone: Silicone is a lifestyle feature used to allow glass products to be more durable and longer lasting. Compared to plastic, choosing silicone-based materials is a more cost-effective and greener way to go. Silicone is non-toxic and ocean-friendly since it does not break down into tiny, micro pieces that continue to haunt our aquatic ecosystem every day.

Made Without
End Of Life:

This glass bottle can be repurposed as a container at the the end of its service life.
For every

PRODUCT

you

PURCHASE,


a

Tree

is

Planted

in your

NAME.

* ALL SHIPPING IS 100% CARBON OFFSET