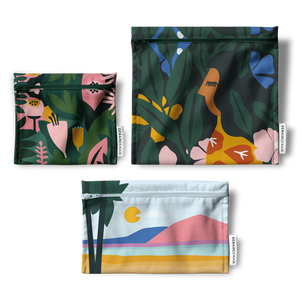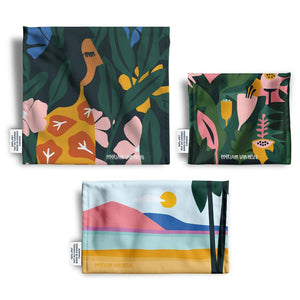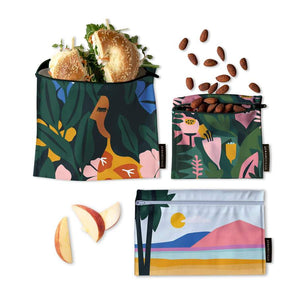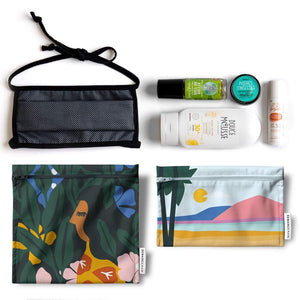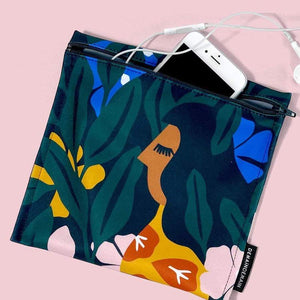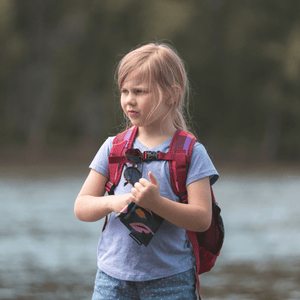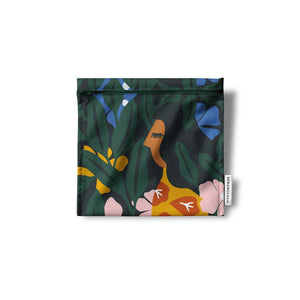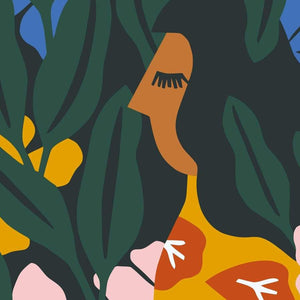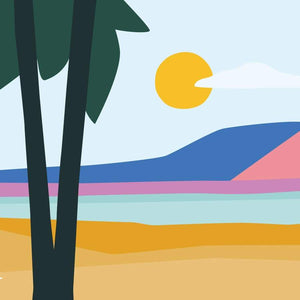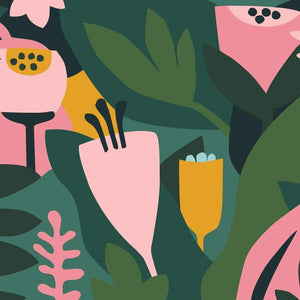 Trio of reusable bags - Tropical Floral by Myriam Van Neste
This set of three stylish waterproof pouches are perfect for lunchboxes, sandwiches, or snacks. Carry food to daycare, school, office, or use on the go. This set of three bags include one sandwich bag, one snack bag, and one mini bag. These products are designed to replace single-use plastic bags with a beautify floral tropical print designed by Canadian Artist Myriam Van Neste. 
Waterproof, durable, and eco-responsible.

Made of RecyPul™ textile, our fabrics are knitted and printed in Canada, from recycled water bottle fibre.

YKK zippers made in Canada

Bags made in Canada

Lead-free, PVC-free, BPA-free. Food safe.
The manufacturing approach aims to minimize waste with efficient design in order to maximize the function of each resource.

Products designed to cause the least harm to people and the environment through their production, disposal or both, often using reclaimed or recycled materials.

Materials that can be recovered and reprocessed into base materials to turn into new products.

This product contains materials that have been recovered and recycled reducing the need to expend energy sourcing new material.

Products designed to meet current needs without compromising the ability of future generations to meet theirs. Design, materials, manufacturing, product transport, disposal, and social practices are aspects of sustainability.

The movement to re-use, reduce, recycle, and the like in order to lessen environmental impact and make efficient use of resources.
Specifications
Product dimension:

Large bag (sandwich): 20 cm x 19 cm (7.75 inches x 7.5 inches)
Medium bag (snack): 13 cm x 19 cm ( 5 inches x 7.5 inches)
Small bag (mini): 13 cm x 13.5 cm (5 inches x 5.5 inches)

Colors/Variations, etc: 3 different formats of reusable, waterproof and washable bags.
Product Care:

Option #1: Wash bags under tap water and air dry.
Option #2 : All bags are machine washable (cold or hot water). Turn them over completely for more efficiency. Tumble dry if desired.

Product of Origin: Made in Canada
Return Policy: Returns within 15 days. Shipping Fees Apply
Shipping Info: 3-8 Business Days
Earth-friendly features
Features:

These durable and reusable food-safe waterproof pouches were made from recycled plastic bottles to reduce the environmental impact of plastic. Aside from producing zero waste products, the manufacturer also supports several initiatives through its social commitment. By donating bags to lunchbox organizations or to health-related groups, planting trees to offset greenhouse gases, or collaborating with local professional training centers, they participate today to improve tomorrow's society.

Material(s)

Recycled Water Bottle Fibers: These bags are made of an exclusive textile made from recycled water bottles (RecyPUL™) to encourage responsible consumption with ethical and reusable products.

For every

PRODUCT

you

PURCHASE,


a

Tree

is

Planted

in your

NAME.

* ALL SHIPPING IS 100% CARBON OFFSET