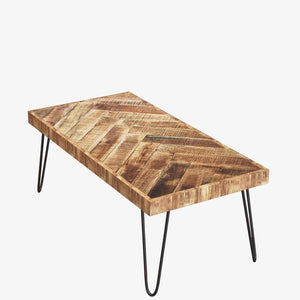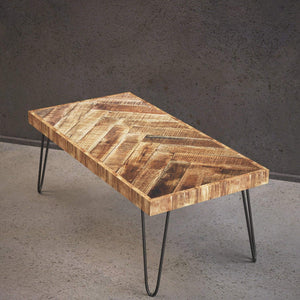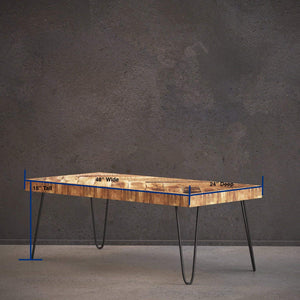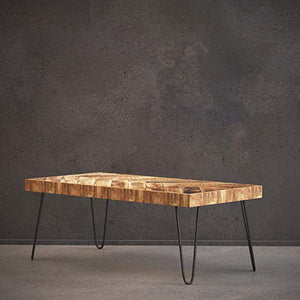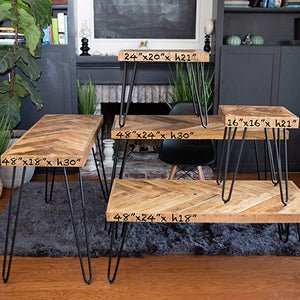 Mango Wood Herringbone Table Collection
A beautiful collection of tables that project a resolute bearing reflecting the materials it was revitalized from. These Mango Wood Herringbone Tables will last for generations to come and fits splendidly in any part of your home.
Charming yet substantial:

The rustic wood top with its chevron pattern portrays elegance and strength bringing out the natural beauty of the mango wood, while the mid-century modern hairpin legs, made of solid Iron, are weighty and conveys immovability. Graceful, yet still strong enough to carry considerable weight.

An easy build:

The tables are exceedingly simple to set up, requiring only three bolts per leg into the pre-drilled slots. Full assembly should only take 15 - 30 minutes for one person.

Sustainable and eco-friendly

: 

Made from Mango wood. An exceptional hardwood, but is also sustainable, and an ecologically friendly choice. Recyclable iron for the legs ensures a reduced impact on the environment than using newly sourced ores.
Artisans make things using traditional crafting methods in line with sustainable and eco-friendly practices.

Products designed to cause the least harm to people and the environment through their production, disposal or both, often using reclaimed or recycled materials.

A formalized or witnessed organizational commitment to upholding moral standards including fairness, honesty, and expectations of responsiveness and accountability.

These products are made so that social, environmental, and economic standards are met to improve the lives of communities. Workers are ensured fair prices, livable wages, and direct and transparent deals.

Products made by hand on a small scale and are meant to last, all without using large energy-consuming factories and production facilities.

Crafted with locally available resources typically derived from plants, animals, or other naturally occurring materials.

Materials that can be recovered and reprocessed into base materials to turn into new products.

Materials that can be regeneratively produced like those made from plants and animals. This has a lower environmental impact compared to artificial products and metal.

Awareness of where materials for a product are procured ensuring they are done so in a sustainable and eco-friendly manner.

Products designed to meet current needs without compromising the ability of future generations to meet theirs. Design, materials, manufacturing, product transport, disposal, and social practices are aspects of sustainability.
$189.99
Specifications
Product dimension:

End Table (Large): 24 inches l x 20 inches w x 21 inches h, 25 lb
End Table (Small): 16 inches l x 16 inches w x 21 inches h, 20 lb
Sofa Table: 48 inches l x 18 inches w x 30 inches h, 50 lb
Desk: 48 inches l x 24 inches w x 30 inches h, 55 lb
Bench: 48 inches l x 18 inches w x 18 inches h, 35 lb
Coffee Table: 24 inches l x 20 inches w x 21 inches h, 25 lb

Colors/Variations, etc: Natural rustic wood with clear finish in a chevron pattern
Product of Origin: Made in India
Return Policy: Returns eligible within 30 days of delivery. Shipping fees apply.
Shipping Info: 5 - 7 days via standard shipping, with one business day for processing.
Earth-friendly features
Features

This distinctive collection of wooden tables was sustainably made by artisans using natural, eco-friendly, renewable, and recyclable materials in an ethical and fair trade environment.

Material(s)

Mango Wood: Mango wood is a highly sustainable hardwood as it's cultivated as a fruit tree. They mature after about 15 years when they begin to produce less fruit, or stop altogether, at which point the tree is harvested for its wood. Mango tree wood is an eco-friendly choice for producing furniture.
Iron: Iron is very sustainable. It can be recycled numerous times, and the recycling process has a lesser impact to the environment than mining new ore. Once it's turned into steel, it becomes very strong and durable and still retains it's recyclability.

End Of Life

Mango wood can be repurposed. Iron can be recycled.
For every

PRODUCT

you

PURCHASE,


a

Tree

is

Planted

in your

NAME.

* ALL SHIPPING IS 100% CARBON OFFSET