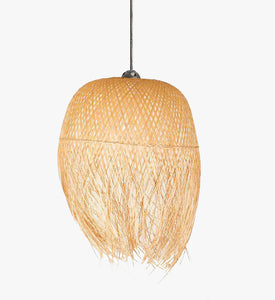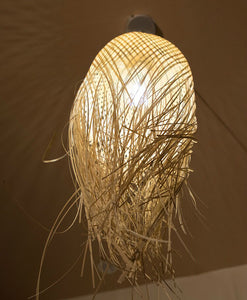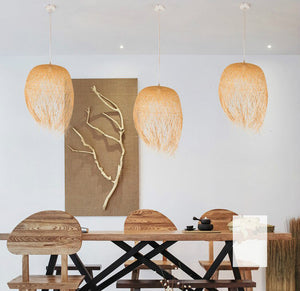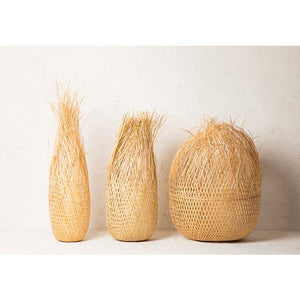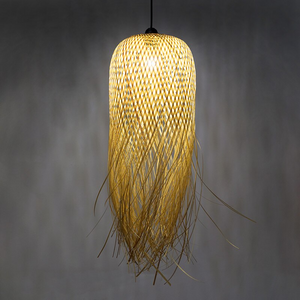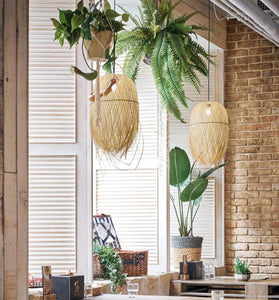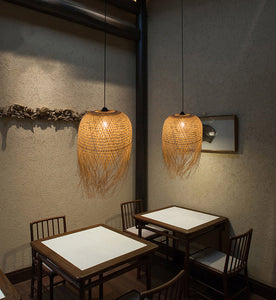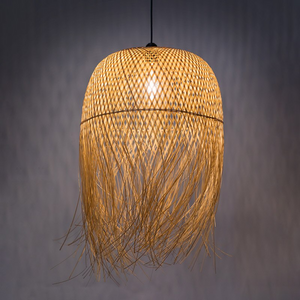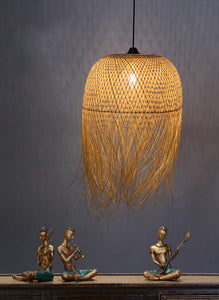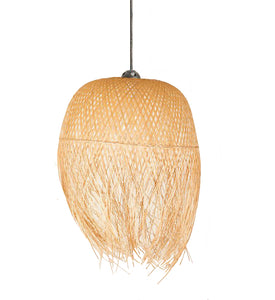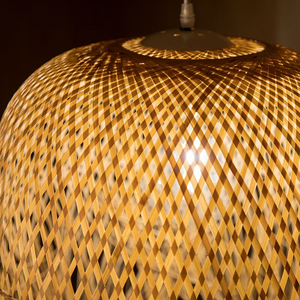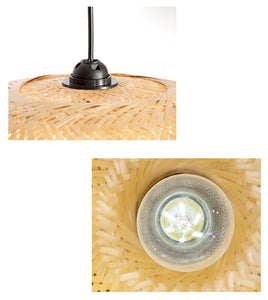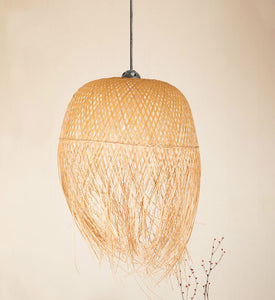 Minimalist Bamboo Hanging Lamp
When you want that simple oriental vibe in your space, our Minimalist Bamboo Hanging Lamp is just the solution to your lighting and decorative needs. Simple and at the same time sophisticated, this handmade lamp selection is available in different sizes so you can find exactly what you need to light up your space.  
Elegance in Design

- Add a touch of elegance to your homes, office, or business establishments with this lovely, minimalist handicraft that works well in any space.

Premium Handmade

- Each lamp is carefully handmade in an airy weave that throws out light in a soft and relaxing tone.

Delicate Strength:

The fibers used are bamboo, and while they may look delicate, they are as durable as they come. Bamboo strength is legendary, and has been used in airplanes, cars, and bicycles, but this lamp shows off its graceful persona, in an eco-friendly, sustainable, and socially conscious work of art.
The materials of the product can be broken down through environmentally harmless natural processes and are made from sustainable materials and plant by-products.

Designed and produced using innovative techniques to measure, offset, and reduce carbon emissions.

Products designed to cause the least harm to people and the environment through their production, disposal or both, often using reclaimed or recycled materials.

Products made by hand on a small scale and are meant to last, all without using large energy-consuming factories and production facilities.

Crafted with locally available resources typically derived from plants, animals, or other naturally occurring materials.

Materials that can be regeneratively produced like those made from plants and animals. This has a lower environmental impact compared to artificial products and metal.

Products designed to meet current needs without compromising the ability of future generations to meet theirs. Design, materials, manufacturing, product transport, disposal, and social practices are aspects of sustainability.
$250.00
Specifications
Product dimension:

Model A: 24.40 inches x 17.72 inches (62cm x 45cm)
Model B: 27.56 inches x 6.69 inches (70cm x 17cm)
Model C: 25.59 inches x 5.90 inches (65cm x 15cm)
Model D: 24.40 inches x 9.84 inches (62cm x 25cm)

Colors/Variations, etc: Natural Bamboo Color
Shipping & Returns: Please refer to our General Shipping and Return Policy.
Earth-friendly features
Features

These bamboo lamps are handmade from a natural, renewable, eco-friendly resource.

Material(s)

Bamboo: This sustainable, fast-growing grass, requires no irrigation and fertilizer, self-regenerates from its own roots, is naturally antibacterial, extremely strong and light, durable, produces 35% more oxygen than an equivalent stand of trees, sequesters carbon dioxide and is carbon neutral, is an excellent soil erosion inhibitor, grows in a wide range of environments, and fiber production has low environmental impact.

End Of Life
For every

PRODUCT

you

PURCHASE,


a

Tree

is

Planted

in your

NAME.

* ALL SHIPPING IS 100% CARBON OFFSET