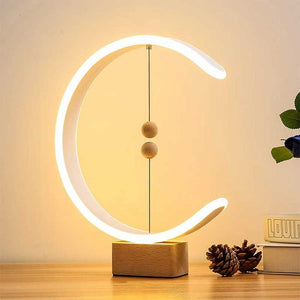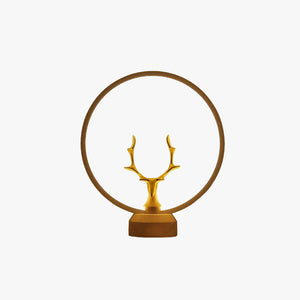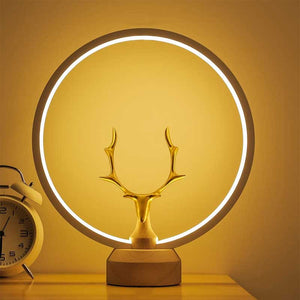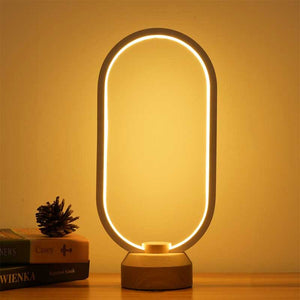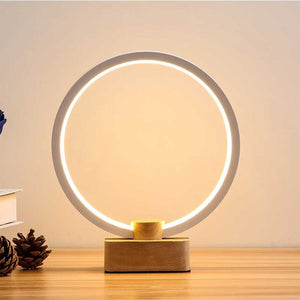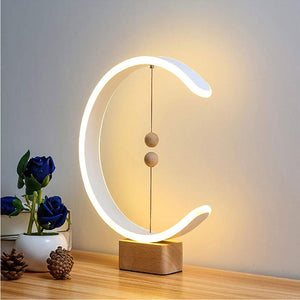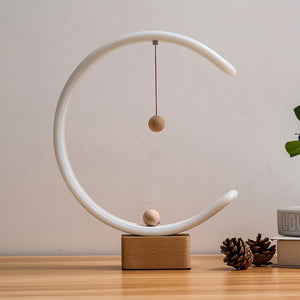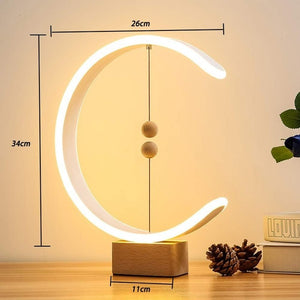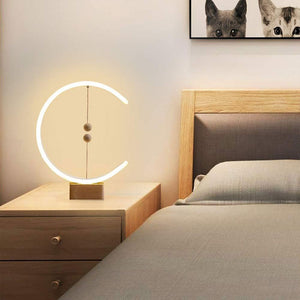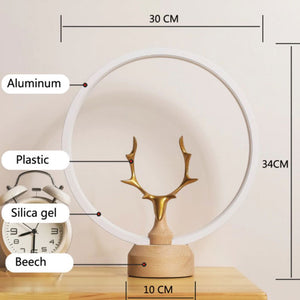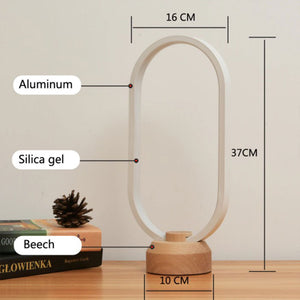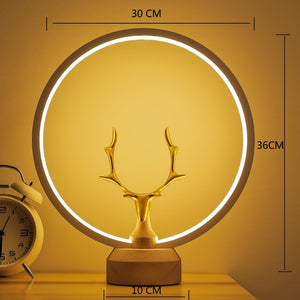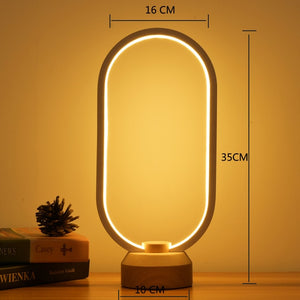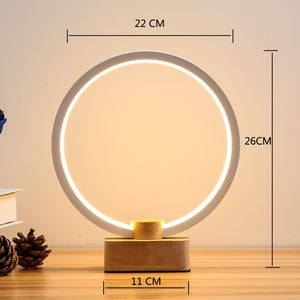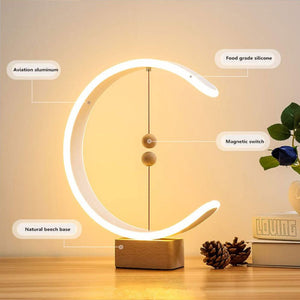 If you need a lamp with a soft, adjustable glow that can be used as a calming nightlight, or as a beautiful and functional decoration whether it's on or off, then our Minimalist Desk Lamp is the perfect adornment for your bedroom or living room. 
Curves Not Edges:

The circular and elliptical design makes a distinct visual expression that conveys gentleness and the illumination the lamp provides also delivers that feeling of serenity. Adjust the brightness to your needs and your mood. 

Ultra Modern:

No classical references here. The lamp is meant to be new in its form and function using materials that are otherwise uncommon in older designs. 

Recyclable and Energy Saving:

Using LED and Aluminum are materials that save energy and reduce waste thrown into landfills. Roughly 74% of all aluminum mined in the past is still in use today as recycled metal, and using LED's uses significantly less power than an incandescent equivalent.
Artisans make things using traditional crafting methods in line with sustainable and eco-friendly practices.

The materials of the product can be broken down through environmentally harmless natural processes and are made from sustainable materials and plant by-products.

Designed and produced using innovative techniques to measure, offset, and reduce carbon emissions.

The manufacturing approach aims to minimize waste with efficient design in order to maximize the function of each resource.

Materials that can decompose into soil whether through a natural process or in an industrial composting facility.

Products designed to cause the least harm to people and the environment through their production, disposal or both, often using reclaimed or recycled materials.

A formalized or witnessed organizational commitment to upholding moral standards including fairness, honesty, and expectations of responsiveness and accountability.

These products are made so that social, environmental, and economic standards are met to improve the lives of communities. Workers are ensured fair prices, livable wages, and direct and transparent deals.

Products made by hand on a small scale and are meant to last, all without using large energy-consuming factories and production facilities.

This ethical practise also aims to educate women and providing opportunities to support themselves, their communities, and encouraging other women to do the same.
$155.00
Specifications
Product Dimension:

Circle-Normal: 22cmx26cmx11cm/ 8.66 inches x 10.24 inches x 4.33 inches
Ellipse Normal: 16cmx35cmx10cm/ 6.3 inches x 13.78 inches x 3.94 inches
C1-Magnetic Switch: 26cmx24cmx11cm/ 10.24 inches x 9.45 inches x 4.33 inches
Deer: 30cmx36cmx10cm/ 11.81 inches x 14.17 inches x 3.94 inches

Shipping & Returns: Please refer to our General Shipping and Return Policy.
Earth-friendly features
Features

This minimalist desk lamp using aluminum is sustainable as the metal is near endlessly recyclable, and the LED bulbs ensure less power is used further reducing its carbon footprint.

Material(s)

Aluminum: Considered as the most sustainable and environmentally friendly metal in the world, aluminum is dependable, and is eco-friendly. Aluminum can be recycled endlessly, which is why it's often used in creating various products. The entire recycling process can save up to 90% of energy compared to mining for new ore.
LED: LED bulbs consume less power per unit (lumen) of light emitted. This reduces greenhouse emissions from power plants. Carbon dioxide emissions for LEDs are also low. Roughly, one LED bulb will minimize greenhouse gas emissions by almost half a ton. Traditional fluorescent tubes may only last you 34,000 hours, however, Energy Focus LED lights were found to surpass 70,000 hours of testing.

End Of Life

Aluminum is near infinitely recyclable.
For every

PRODUCT

you

PURCHASE,


a

Tree

is

Planted

in your

NAME.

* ALL SHIPPING IS 100% CARBON OFFSET