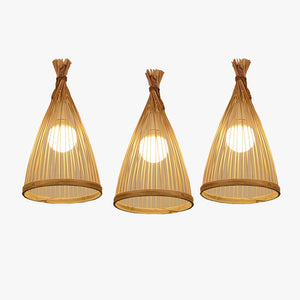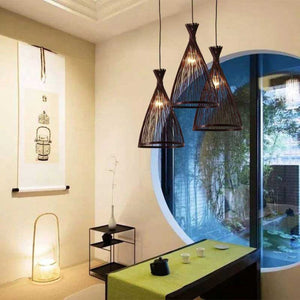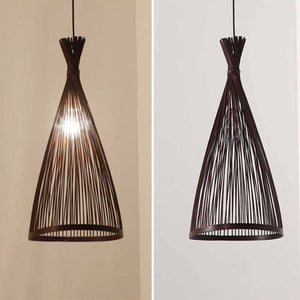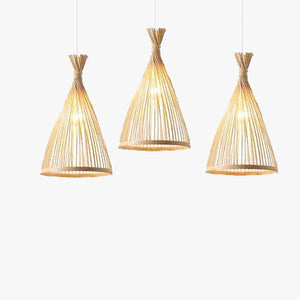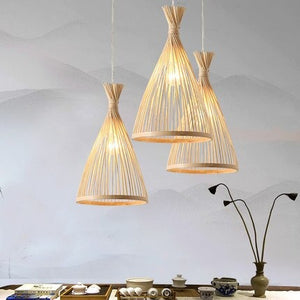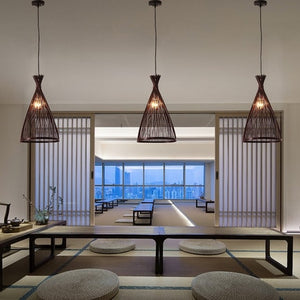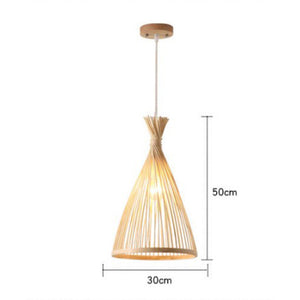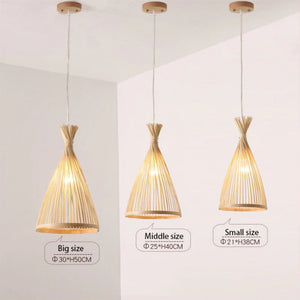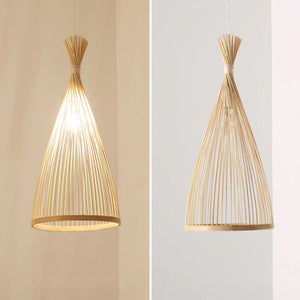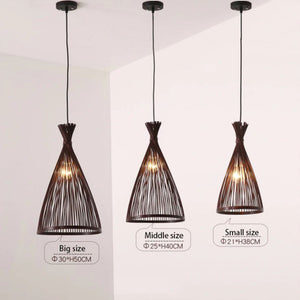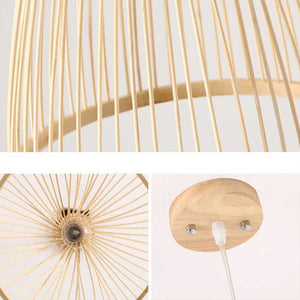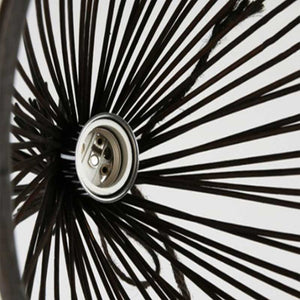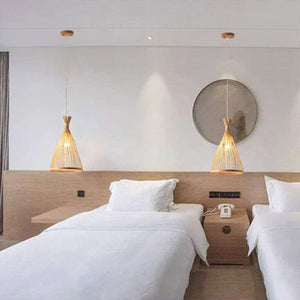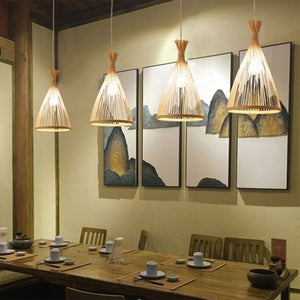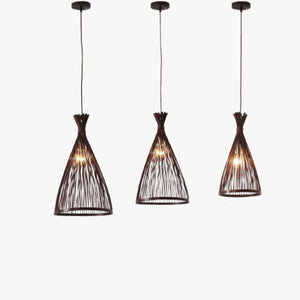 Modern Bamboo Pendant Lamp
Simple. Elegant. Functional. Beautiful. But don't take our word for it. Just one look at our  Modern Bamboo Pendant Lamp should tell you all you need to know about it.
Ubiquitous Versatility:

A unique high quality design that's ideal for any type of area you can think of. Restaurants, kitchens, living rooms, bedrooms, hotels, restaurants, cafes, bars, clubs, offices. 

Gentle Luminescence:

Pair it with the right kind of bulb, and the lamp will accent any space in a complimentary glow that is relaxing and soothing after a long day out.

Naturally Bamboo:

Bamboo is non-toxic, extremely sustainable, durable, beautiful, and is an environmentally friendly resource that has nearly unlimited uses and is very easy to work with. It's the material of choice for all the right reasons, and none of the wrong ones. 
The materials of the product can be broken down through environmentally harmless natural processes and are made from sustainable materials and plant by-products.

Designed and produced using innovative techniques to measure, offset, and reduce carbon emissions.

Products designed to cause the least harm to people and the environment through their production, disposal or both, often using reclaimed or recycled materials.

Products made by hand on a small scale and are meant to last, all without using large energy-consuming factories and production facilities.

Crafted with locally available resources typically derived from plants, animals, or other naturally occurring materials.

Materials that can be regeneratively produced like those made from plants and animals. This has a lower environmental impact compared to artificial products and metal.

Products designed to meet current needs without compromising the ability of future generations to meet theirs. Design, materials, manufacturing, product transport, disposal, and social practices are aspects of sustainability.
$130.00
Specifications
Product dimension:

Small: 21 x 21 x 38 cm / 8.2 inches x 8.2 inches x 14.9 inches
Medium: 25 x 25 x 40 cm / 9.8 inches x 9.8 inches x 15.7 inches
Large: 30 x 30 x 50 cm / 11.8 inches x 11.8 inches x 19.6 inches

Colors/Variations, etc: Natural Bamboo, Walnut
Other Info:

Base Height: 100mm / 3.9 inches
Line length: 1000mm / 39.3 inches

Shipping & Returns: Please refer to our General Shipping and Return Policy.
Earth-friendly features
Features

These bamboo lamps are handmade from a natural, renewable, eco-friendly resource.

Material(s)

Bamboo: This sustainable, fast-growing grass, requires no irrigation and fertilizer, self-regenerates from its own roots, is naturally antibacterial, extremely strong and light, durable, produces 35% more oxygen than an equivalent stand of trees, sequesters carbon dioxide and is carbon neutral, is an excellent soil erosion inhibitor, grows in a wide range of environments, and fiber production has low environmental impact.

End Of Life
For every

PRODUCT

you

PURCHASE,


a

Tree

is

Planted

in your

NAME.

* ALL SHIPPING IS 100% CARBON OFFSET