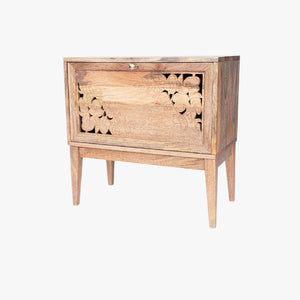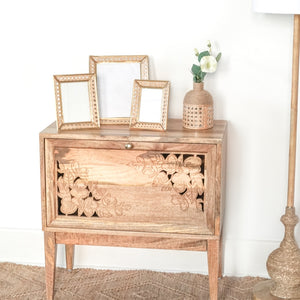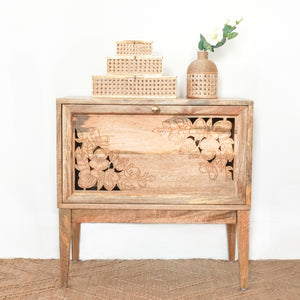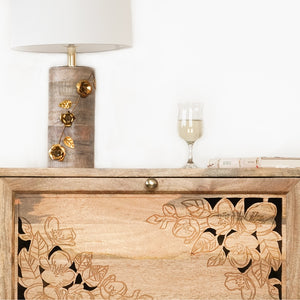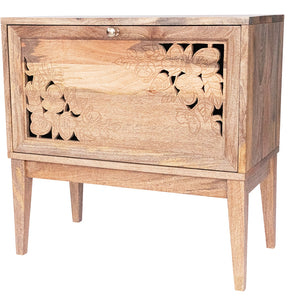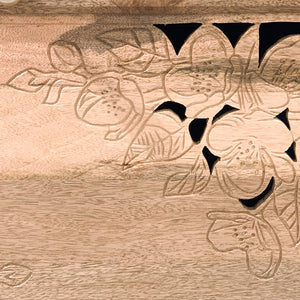 Modern Handcrafted Floral Wooden Cabinet
Whether it's used as a wine cabinet, entryway table, home bar, storage or decor, this unique piece stands out from the rest with a hand carved wood floral design made from sustainable mango wood. 
Elegant, Clean, and Functional:

Use it as storage, a table, or as a centerpiece. This floral wooden cabinet is sure as versatile as it is elegantly striking in its simplicity.

Handcrafted Beauty

- The lovely floral design was carefully carved by skilled women craftsmen to create artwork that is visually-appealing and functional. 

Renewable and Recyclable

- The mango wood for this cabinet is responsibly sourced and is sustainable from India, while the brass can be recycled infinitely which is more eco-friendly than digging for new ore.
Artisans make things using traditional crafting methods in line with sustainable and eco-friendly practices.

Designed and produced using innovative techniques to measure, offset, and reduce carbon emissions.

A formalized or witnessed organizational commitment to upholding moral standards including fairness, honesty, and expectations of responsiveness and accountability.

These products are made so that social, environmental, and economic standards are met to improve the lives of communities. Workers are ensured fair prices, livable wages, and direct and transparent deals.

Products made by hand on a small scale and are meant to last, all without using large energy-consuming factories and production facilities.

This ethical practise also aims to educate women and providing opportunities to support themselves, their communities, and encouraging other women to do the same.

Crafted with locally available resources typically derived from plants, animals, or other naturally occurring materials.

Materials that can be recovered and reprocessed into base materials to turn into new products.

Materials that can be regeneratively produced like those made from plants and animals. This has a lower environmental impact compared to artificial products and metal.

Awareness of where materials for a product are procured ensuring they are done so in a sustainable and eco-friendly manner.
This item is currently sold out.
Specifications
Dimensions: 30 inches W x 16 inches D x 30 inches H
Color/Design: Dried Wood/Light Brown, 1 Cabinet Door
Product of Origin: Made in India
Other Info: Cabinet opens from the top with chains on both sides.
Return Policy: Returns accepted within 30 days of delivery.
Shipping Info: Standard shipping arrives in 4 to 6 days, with one business day for processing.
Earth-friendly features
Features

This inspired handcrafted wooden cabinet was made by women artisans using sustainable practices with recyclable, renewable materials in an ethical and fair trade environment.

Material(s)

Mango Wood: Mango wood is a highly sustainable hardwood as it's cultivated as a fruit tree. They mature after about 15 years when they begin to produce less fruit, or stop altogether, at which point the tree is harvested for its wood. Mango tree wood is an eco-friendly choice for producing furniture.
Brass: Brass is capable of being recycled infinitely without damaging the environment. New products created through recycled brass also retain the same durability and build quality as the original since the recycling process does not lose its physical or chemical properties making it a sustainable and cost-effective option in producing goods.

End Of Life

Mango wood can be repurposed. Brass is near infinitely recyclable.
For every

PRODUCT

you

PURCHASE,


a

Tree

is

Planted

in your

NAME.

* ALL SHIPPING IS 100% CARBON OFFSET