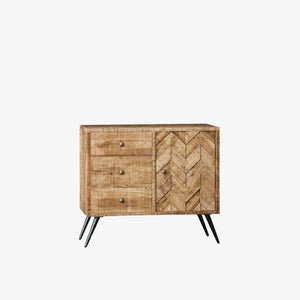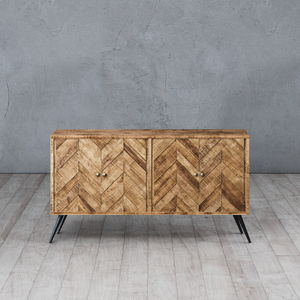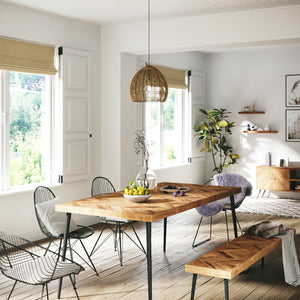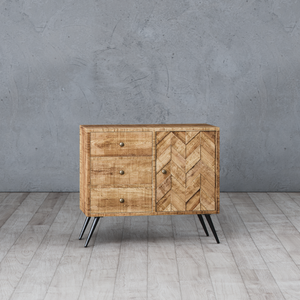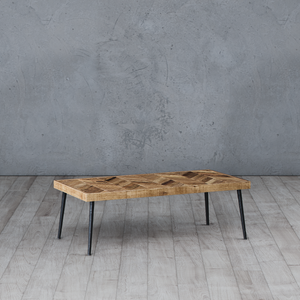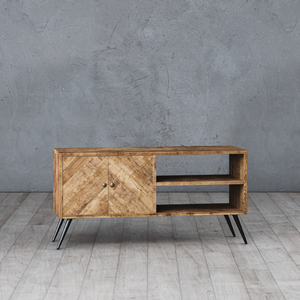 Natural Mango Wood Dining Room Set
This collection has been more than 6 months in the making and it's finally here!  You are going to love that it's made with solid reclaimed mango wood.  You will love that it's an eco-friendly, super hardwood with beautiful and natural ruggedness that is perfect for the modern home.  Mango is one of the largest crops and the Mango tree has about a 20-year useful fruiting life. Our wood is sourced from trees that have expended their natural usefulness in the Mango trade.  We save these beautiful trees from being burned down and use the wood to create amazing one-of-a-kind furniture.  The legs are made of solid iron and are heavy!
A Table For Every Need:

From end tables to coffee tables, to a full-sized desk that you'll enjoy working from. There is a table from this collection that you can definitely use. Get one, or get them all. You'll know you've made the right choice with any or all of these.

Highlighting Natural Beauty:

The natural color of the wood comes out in all of these pieces and coated with a clear finish that makes sure the wood stays beautiful protected and throughout its stay with you.

Second Chance Sustainability.

The mango wood is reclaimed and instead of being disposed of by fire or left to rot, is given another lease on life as something useful and an attractive piece in your space, long after the natural life of the tree has passed. The heavy recyclable iron legs are a reminder of the strength the mango wood is paired with.
Artisans make things using traditional crafting methods in line with sustainable and eco-friendly practices.

Products designed to cause the least harm to people and the environment through their production, disposal or both, often using reclaimed or recycled materials.

A formalized or witnessed organizational commitment to upholding moral standards including fairness, honesty, and expectations of responsiveness and accountability.

These products are made so that social, environmental, and economic standards are met to improve the lives of communities. Workers are ensured fair prices, livable wages, and direct and transparent deals.

Products made by hand on a small scale and are meant to last, all without using large energy-consuming factories and production facilities.

Crafted with locally available resources typically derived from plants, animals, or other naturally occurring materials.

Materials that can be recovered and reprocessed into base materials to turn into new products.

Materials that can be regeneratively produced like those made from plants and animals. This has a lower environmental impact compared to artificial products and metal.

Awareness of where materials for a product are procured ensuring they are done so in a sustainable and eco-friendly manner.

Products designed to meet current needs without compromising the ability of future generations to meet theirs. Design, materials, manufacturing, product transport, disposal, and social practices are aspects of sustainability.
$700.00
Specifications
Product dimension:

36" Sideboard: 34" l x 16" w x 30" h 34 lb
Coffee Table: 48" l x 24" w x 16" h 125 lb
Dining Table: 70" l x 35" w x 30" h 125 lb
Bench: 65" l x 13.5" w x 16" h 25 lb
60" Sideboard: 55" l x 16" w x 30" h 125 lb

Weight:

36" Sideboard: 34 lb
Coffee Table: 125 lb
Dining Table: 125 lb
Bench: 25 lb
60" Sideboard: 125 lb

Colors/Variations, etc: Natural rustic wood with clear finish
Product of Origin: Made in India
Other Information: Table is not shippable alone. Need to order multiple pieces so that we can stack safely and affordably on a pallet.
Return Policy: Returns eligible within 30 days of delivery. Shipping fees apply.
Shipping Info: 5 - 7 days via standard shipping, with one business day for processing.
Earth-friendly features
Features

This outstanding collection of wooden tables was sustainably made by artisans using natural, eco-friendly, renewable, and recyclable materials in an ethical and fair trade environment.

Material(s)

Mango Wood: Mango wood is a highly sustainable hardwood as it's cultivated as a fruit tree. They mature after about 15 years when they begin to produce less fruit, or stop altogether, at which point the tree is harvested for its wood. Mango tree wood is an eco-friendly choice for producing furniture.
Iron: Iron is very sustainable. It can be recycled numerous times, and the recycling process has a lesser impact to the environment than mining new ore. Once it's turned into steel, it becomes very strong and durable and still retains it's recyclability.

End Of Life

Mango wood can be repurposed. Iron can be recycled.
For every

PRODUCT

you

PURCHASE,


a

Tree

is

Planted

in your

NAME.

* ALL SHIPPING IS 100% CARBON OFFSET