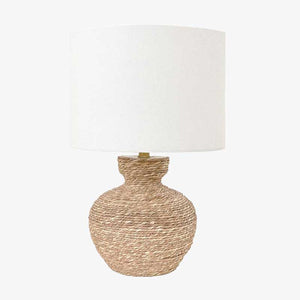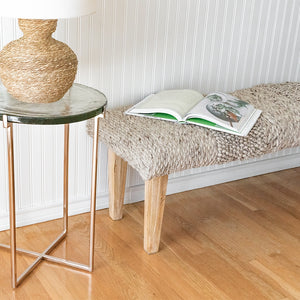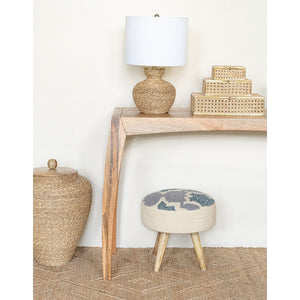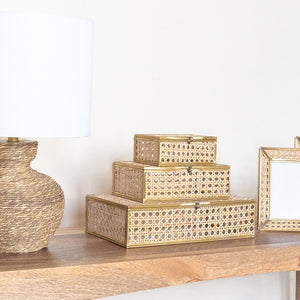 Natural Seagrass Rope Table Lamp
Natural Seagrass from the ocean is dried, and twisted into rope which we wrap around the base of our coastal inspired lamp, producing this distinguished table lamp that features environmentally-friendly materials and following a sustainable production process. 
Rugged, Strong, and Graceful: The natural finish of the seagrass, already exuding strength on it's own, only just covers the even stronger iron underneath that makes for an extremely formidable, yet elegantly graceful lamp that won't be out of place in even the daintiest settings.

Softness and Strength: Coupled with the right tone of light, this lampshade will softly brighten your space and be the picture of soothing relaxation.
Sustainable Industry: This lamp was made by a woman artisan in India using renewable, recyclable, and sustainable materials, as well as helping the artisan improve her way of life and those of her family.
Artisans make things using traditional crafting methods in line with sustainable and eco-friendly practices.

The materials of the product can be broken down through environmentally harmless natural processes and are made from sustainable materials and plant by-products.

Materials that can decompose into soil whether through a natural process or in an industrial composting facility.

Products designed to cause the least harm to people and the environment through their production, disposal or both, often using reclaimed or recycled materials.

A formalized or witnessed organizational commitment to upholding moral standards including fairness, honesty, and expectations of responsiveness and accountability.

These products are made so that social, environmental, and economic standards are met to improve the lives of communities. Workers are ensured fair prices, livable wages, and direct and transparent deals.

Products made by hand on a small scale and are meant to last, all without using large energy-consuming factories and production facilities.

This ethical practise also aims to educate women and providing opportunities to support themselves, their communities, and encouraging other women to do the same.

Crafted with locally available resources typically derived from plants, animals, or other naturally occurring materials.

Materials that can be recovered and reprocessed into base materials to turn into new products.
This item is currently sold out.
Specifications
Product Dimensions:

Lamp Size: 8.25 inches Width x 12.25 inches Height
Shade Size: 12 inches Diameter x 8 inches Height
Total Lamp Size Including Shade: 12 inches x 12 inches x 19 inches H
Weight - 9 lb

Color / Design:

Shade Color: White
Iron and Hand Wrapped Seagrass
Metal color- Brushed Brass

Place of Origin: Made in India
Return Policy: Returns accepted within 60 days of delivery. Shipping Fees Apply
Shipping Info: 4 to 6 days via Standard Shipping, with One Business Day for Processing.
Earth-friendly features
Features

This handmade lamp was made by artisans in an ethical and fair trade setting using sustainable, natural, renewable, and recyclable materials that were sourced responsibly.

Material(s)

Seagrass: A fast growing grass in the sea. It can be sustainably farmed, and processed in an ecologically friendly manner specifically for seagrass weaving. It is lightweight, biodegradable, and is an alternative to plastic as a weaving material.
Iron: Iron is one of the most sustainable materials that is used for producing various products all over the globe. Recycle it numerous times and it can still produce products of equal quality with the original one. The entire recycling process poses no harm to the environment and is actually a much better alternative than producing new ones from scratch since it lessens carbon emissions by 82%.

End Of Life

Seagrass is compostable and Biodegradable. Iron is recyclable.
For every

PRODUCT

you

PURCHASE,


a

Tree

is

Planted

in your

NAME.

* ALL SHIPPING IS 100% CARBON OFFSET