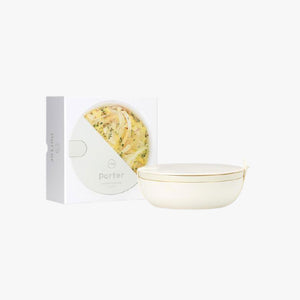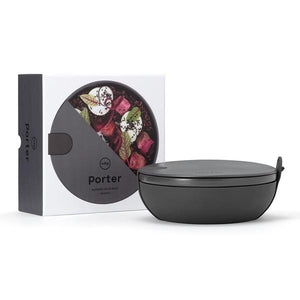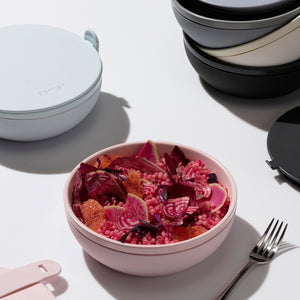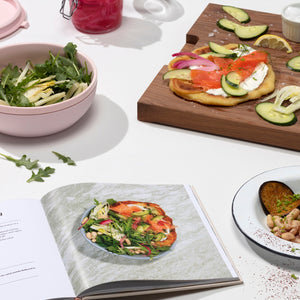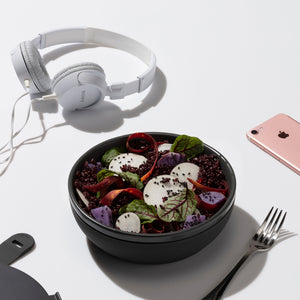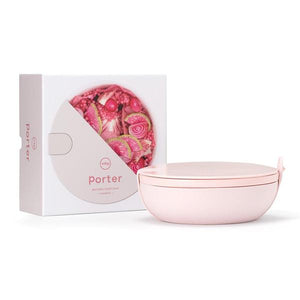 The Porter Bowl is a premium ceramic lunch bowl that features a protective silicone wrap, rigid plastic lid and snap-tight silicone strap. Perfect for transporting your salad, grain bowl or leftovers - wherever life may take you.
Thoughtful Crafting:

Made from high-quality ceramic, BPA-free plastic & silicone, the durable ceramic base is wrapped in protective silicone and a silicone snap-strap secures the plastic lid. 

Sustainable Lifestyle:

The minimalist design & muted hues of this bowl help you to feel stylish while you cut down on single-use plastics. The roomy, one-liter capacity packs everything from big salads and grain bowls to pasta and veggies. This bowl is designed to be carried upright as it's not leak-proof — save soups for the Porter Mug or a Porter Seal-Tight Bowl.
Products designed to cause the least harm to people and the environment through their production, disposal or both, often using reclaimed or recycled materials.

Crafted with locally available resources typically derived from plants, animals, or other naturally occurring materials.

Materials that can be recovered and reprocessed into base materials to turn into new products.

Materials that can be regeneratively produced like those made from plants and animals. This has a lower environmental impact compared to artificial products and metal.

The movement to re-use, reduce, recycle, and the like in order to lessen environmental impact and make efficient use of resources.
$40.00
Specifications
Product dimension:

8 inches L x 7.5 inches W x 3 inches H
Capacity: 1 liter
Weight: 1.8 lb

Colors/Variations, etc: Cream, Charcoal, Blush
Return Policy: Returns within 30 days. Shipping Fees Apply
Shipping Info: 5-7 Business Days
Earth-friendly features
Features:

An alternative to single use plastic cups, this durable and food-safe bowl is meant to minimize our impact on the environment.

Material(s)

Ceramic: Ceramic is naturally sourced from the ground. It is food-safe and is absolutely more sustainable and eco-friendly compared to plastic containers. When properly maintained, ceramic products can last 50 years or more and can easily be recycled if it breaks which helps reduce negative impact to our environment.
Silicone: Silicone is a lifestyle feature used to allow ceramic products to be more durable and longer lasting. Compared to plastic, choosing silicone-based materials is a more cost-effective and greener way to go. Silicone is non-toxic and ocean-friendly since it does not break down into tiny, micro pieces that continue to haunt our aquatic ecosystem every day.

Made Without:
End Of Life
For every

PRODUCT

you

PURCHASE,


a

Tree

is

Planted

in your

NAME.

* ALL SHIPPING IS 100% CARBON OFFSET