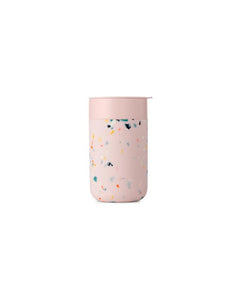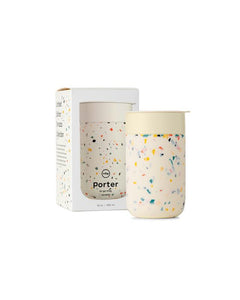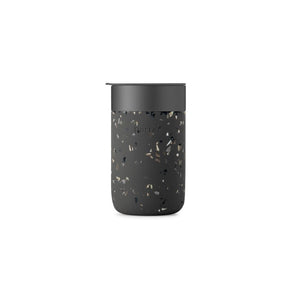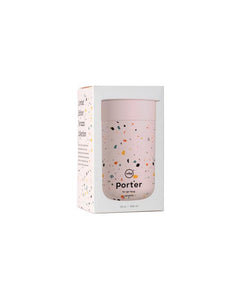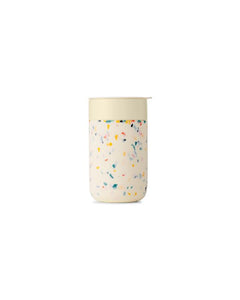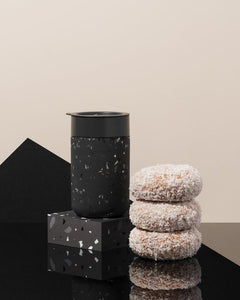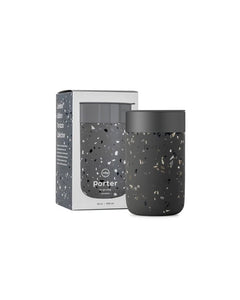 The Porter Mug is a stylish alternative to disposable plastic cups and metal to-go mugs. The interior ceramic mug is wrapped with a protective silicone sleeve that's soft on the hands and to prevent scratches and spills. 
The Porter Mug comes in our crave-worthy Terrazzo pattern, so your drink looks as good as it tastes. Terrazzo is an iconic composite material originally developed in Venice, Italy.  Traditionally made from a binder material of concrete-filled with bits of colorful stone, we crafted our limited edition Terrazzo collection from 100% food–safe silicone.
Tough and Tender:

Made of durable ceramic wrapped in protective silicone, this packable lidded mug is perfect for on-the-go hot and cold beverages.

Sustainable Lifestyle:

Instead of using a disposable cup, make it your style to these stylish mugs to support the preservation of our natural resources. This reusable mug works for soups and beverages keeping their temperature constant and sealed from spilling. 
Products designed to cause the least harm to people and the environment through their production, disposal or both, often using reclaimed or recycled materials.

Crafted with locally available resources typically derived from plants, animals, or other naturally occurring materials.

Materials that can be recovered and reprocessed into base materials to turn into new products.

Materials that can be regeneratively produced like those made from plants and animals. This has a lower environmental impact compared to artificial products and metal.

The movement to re-use, reduce, recycle, and the like in order to lessen environmental impact and make efficient use of resources.
$30.00
Specifications
Product dimension: 4.4 inches L x 3 inches W x 3 inches H
Colors/Variations, etc: Cream, Blush, Charcoal
Return Policy: Returns within 30 days. Shipping Fees Apply
Shipping Info: 5-7 Business Days
Earth-friendly features
Features:

An alternative to single use plastic cups, this durable and food-safe mug is meant to minimize our impact on the environment.

Material(s)

Ceramic: Ceramic is naturally sourced from the ground. It is food-safe and is absolutely more sustainable and eco-friendly compared to plastic containers. When properly maintained, ceramic products can last 50 years or more and can easily be recycled if it breaks which helps reduce negative impact to our environment.
Silicone: Silicone is a lifestyle feature used to allow ceramic products to be more durable and longer lasting. Compared to plastic, choosing silicone-based materials is a more cost-effective and greener way to go. Silicone is non-toxic and ocean-friendly since it does not break down into tiny, micro pieces that continue to haunt our aquatic ecosystem every day.

Made Without:
End Of Life
For every

PRODUCT

you

PURCHASE,


a

Tree

is

Planted

in your

NAME.

* ALL SHIPPING IS 100% CARBON OFFSET