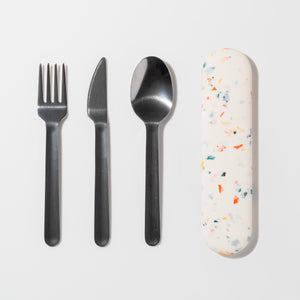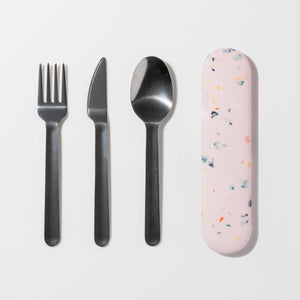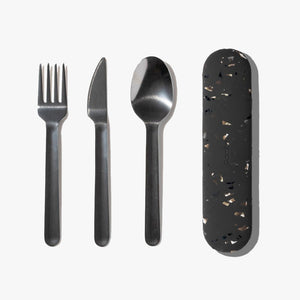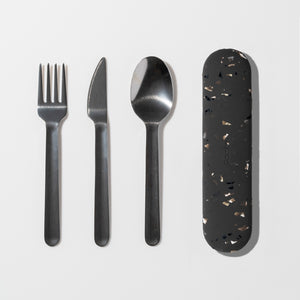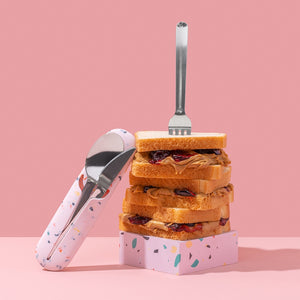 Porter Utensil Set - Terrazzo
Put a fork in single-use plastic waste. This compact set of stainless steel silverware keeps a slim profile, while the silicone carrying case helps things stay clean in transit.
Lightweight and Earth-friendly:

Crafted from durable yet lightweight food-grade stainless steel. The sturdy fork, sharp knife, and rounded spoon make every meal feel special, whether you're camping, traveling, or working. Adult-sized utensils fit in the carrying case to keep cutlery clean in your bag. Each piece is dishwasher-safe for quick and easy cleanup.

Sustainable Lifestyle:

From picnics to desktops to dinner tables or meals in transit say no to single-use plastic cutlery everywhere you eat. Break out your stylish silicone carrying case and enjoy a meal with your personal set of stainless steel silverware. You'll help save the earth by lessening the need to produce plastic utensils.
Products designed to cause the least harm to people and the environment through their production, disposal or both, often using reclaimed or recycled materials.

Materials that have been recovered and recycled reducing the need to expend energy sourcing new material.

Materials that can be recovered and reprocessed into base materials to turn into new products.

The movement to re-use, reduce, recycle, and the like in order to lessen environmental impact and make efficient use of resources.
$18.00
Specifications
Product dimension: 7.5 inches L x 2 inches W x 0.5 inches H
Colors/Variations, etc: Terrazzo Cream, Terrazzo Charcoal, Terrazzo Blush
Return Policy: Returns within 30 days. Shipping Fees Apply
Shipping Info: 5-7 Business Days
Earth-friendly features
Features:

Meant to replace single use plastic utensils, this complete set of spoon, knife, and fork means that we lessen our impact on the environment.

Material(s)

Stainless Steel: Stainless steel is playing an important role in sustainable design and alternative energy evolution. Ultimately, stainless steel is corrosion resistant and durable, has high-recycled content and recapture rates, provides long service life, and reduces resource use.
Silicone: Silicone is a lifestyle feature used to allow ceramic products to be more durable and longer lasting. Compared to plastic, choosing silicone-based materials is a more cost-effective and greener way to go. Silicone is non-toxic and ocean-friendly since it does not break down into tiny, micro pieces that continue to haunt our aquatic ecosystem every day.

Made Without:
End Of Life:
For every

PRODUCT

you

PURCHASE,


a

Tree

is

Planted

in your

NAME.

* ALL SHIPPING IS 100% CARBON OFFSET