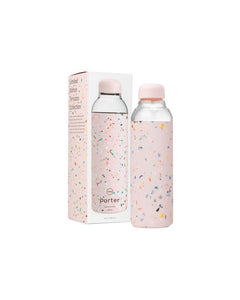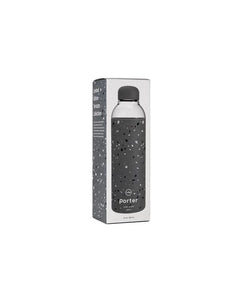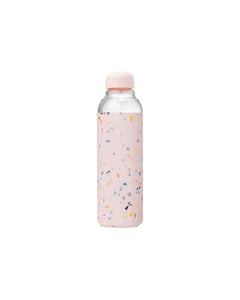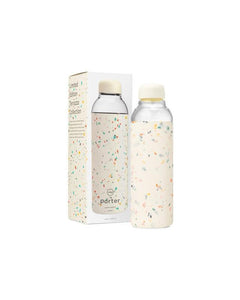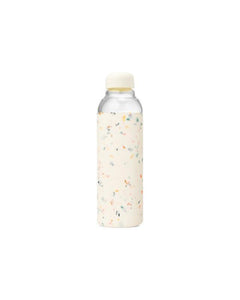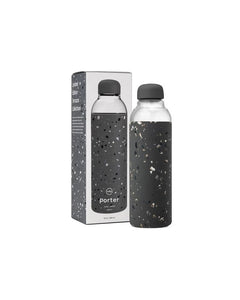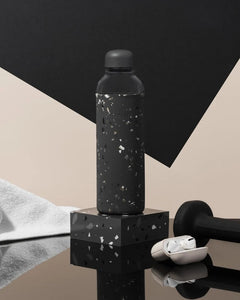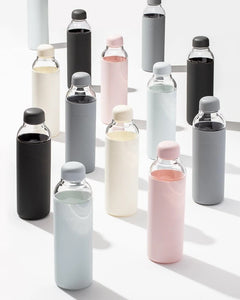 Upgrade hydration with the sleek, simple Porter Glass Water Bottle. Constructed from durable, lightweight glass with a protective silicone sleeve & twist-off cap, this reusable bottle is a sustainable swap for disposable plastic bottles & metal canteens.
Made from BPA-free glass, so it keeps water tasting like water

Crafted from premium borosilicate glass and designed to withstand years of daily use

Dishwasher-safe, or hand wash 

Note: Designed for cold liquids only - save hot beverages for our Porter Mugs
A formalized or witnessed organizational commitment to upholding moral standards including fairness, honesty, and expectations of responsiveness and accountability.

Awareness of where materials for a product are procured ensuring they are done so in a sustainable and eco-friendly manner.

The movement to re-use, reduce, recycle, and the like in order to lessen environmental impact and make efficient use of resources.
$35.00
Specifications
Product dimension:

Dimensions: 2.75 x 2.75 x 7.25 inches
Capacity: 16 oz
Weight: .75 lbs

Colors/Variations, etc: Terrazzo Cream, Terrazzo Blush, Terrazzo Charcoal
Product Care: Dishwasher safe
Return Policy: Returns within 30 days. Shipping Fees Apply
Earth-friendly features
Features

This glass bottle, made from borosilicate glass, is made to last, and is meant to be reused, to reduce the waste of single-use plastic bottles.

Material(s)

Silicone: A lifestyle feature used to allow glass products to be more durable and longer lasting. Compared to plastic, choosing silicone-based materials is a more cost-effective and greener way to go. Silicone is non-toxic and ocean-friendly since it does not break down into tiny, micro pieces that continue to haunt our aquatic ecosystem every day.
Glass: An eco-friendly and sustainable material used all over the globe for various purposes. Although it has pros and cons, glass is a better alternative compared to single use plastic, especially products that are not properly washed and recycled. Borosilicate glass is technically recyclable but not through home recycling systems. At this time borosilicate glass products are most effectively repurposed as containers.

Made Without
End Of Life

This container can be repurposed once it reaches the end of its service life.
For every

PRODUCT

you

PURCHASE,


a

Tree

is

Planted

in your

NAME.

* ALL SHIPPING IS 100% CARBON OFFSET