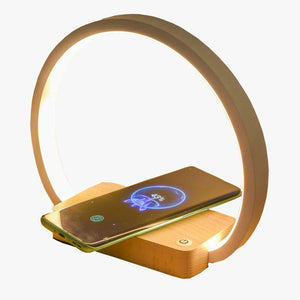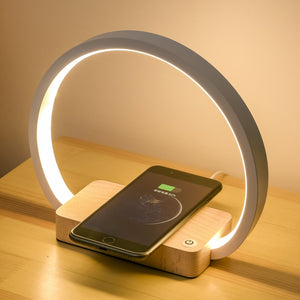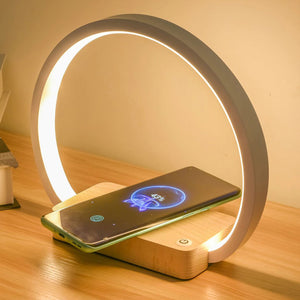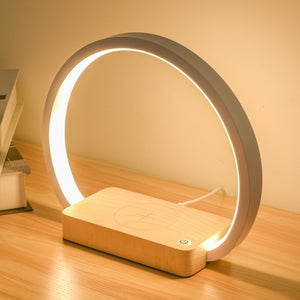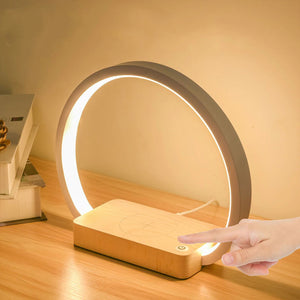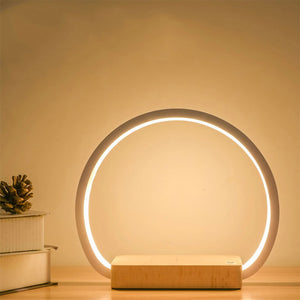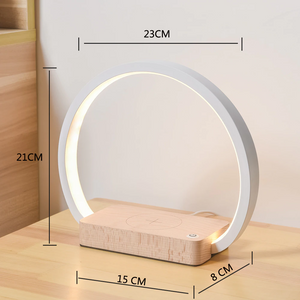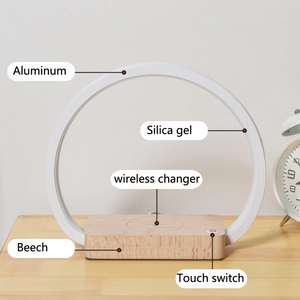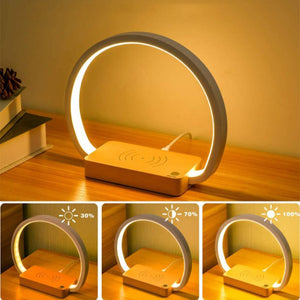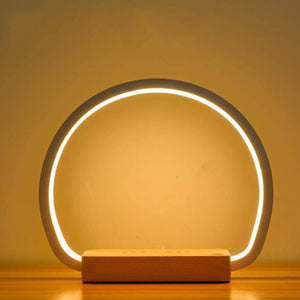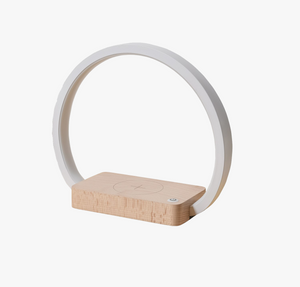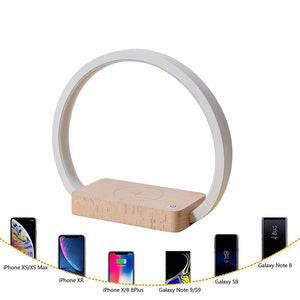 Sphere Wireless Charging LED Desk Lamp
Keep your phone, tablet, or other wireless-charging-enabled device topped up and ready to use. Simply place your device, uncovered or in a wireless charging-compatible case, flat on the beech wood lamp base to initiate wireless charging.
DIMMABLE LIGHTING

: Customize the look of your room with just a tap; holding your fingertip on the power button of the Sphere lamp will seamlessly dim or brighten the room in seconds.

INDIRECT ILLUMINATION

: Halogen and incandescent lights can affect healthy sleeping habits by "flickering" or being too bright to work and relax under. The indirect lighting offered by the LED sphere lamp is gentle, making it deal for a child's room

ECO-FRIENDLY DESIGN

: Made with beech wood and

aluminum for years of durability, this beautiful lamp will last for years, thanks to powerful LED light bulbs. Not only does this design use far less electricity, LED bulbs will burn brightly for years without needing replacement.
Designed and produced using innovative techniques to measure, offset, and reduce carbon emissions.

Products designed to cause the least harm to people and the environment through their production, disposal or both, often using reclaimed or recycled materials.

Crafted with locally available resources typically derived from plants, animals, or other naturally occurring materials.

Materials that can be recovered and reprocessed into base materials to turn into new products.

Materials that can be regeneratively produced like those made from plants and animals. This has a lower environmental impact compared to artificial products and metal.

Products designed to meet current needs without compromising the ability of future generations to meet theirs. Design, materials, manufacturing, product transport, disposal, and social practices are aspects of sustainability.
Specifications
Product dimension:

Width: 23cm / 9.06 inches
Height: 21cm / 8.27 inches
Depth: 8cm / 3.15 inches
Wooden Base Width: 15cm / 5.91 inches

Colors/Variations, etc: Warm White
Shipping & Returns: Please refer to our General Shipping and Return Policy.
Earth-friendly features
Features

This modern desk lamp is made with a combination of renewable and recyclable resources. The LED's use less power and are long-lasting, lessening the need to regularly replace the bulbs further reducing its carbon footprint.

Material(s)

Beech Wood: One of the most environmentally friendly building materials because they're a replaceable, fast-growing species and tend to be more sustainable than slow-growing trees like oak. It is naturally carbon storing. Using legal, sustainable and responsibly harvested timber such as beech wood over other materials reduces our dependence on fossil fuels and their consequent carbon emissions.
Aluminum: Considered as the most sustainable and environmentally friendly metal in the world, aluminum is dependable, and is eco-friendly. Aluminum can be recycled endlessly, which is why it's often used in creating various products. The entire recycling process can save up to 90% of energy compared to mining for new ore.
LED: These consume less power per unit (lumen) of light emitted. This reduces greenhouse emissions from power plants. Carbon dioxide emissions for LEDs are also low. Roughly, one LED bulb will minimize greenhouse gas emissions by almost half a ton. Traditional fluorescent tubes may only last you 34,000 hours, however, Energy Focus LED lights were found to surpass 70,000 hours of testing.

End Of Life

Beech wood is a renewable resource, and Aluminum is near infinitely recyclable.
For every

PRODUCT

you

PURCHASE,


a

Tree

is

Planted

in your

NAME.

* ALL SHIPPING IS 100% CARBON OFFSET