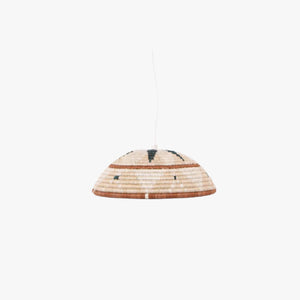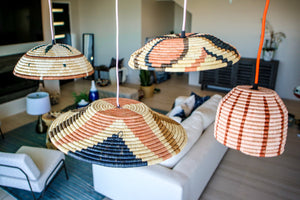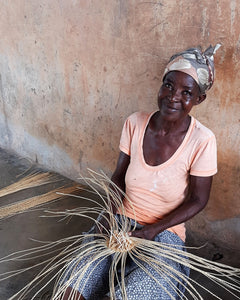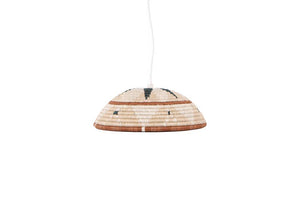 Large Shades of Sand Lamp Pendant
Lighting just got way more fun!
Handwoven lamp pendants bring instant visual texture to your interiors. The funnel pendants can be used as decoration and accent lighting in any room in your home. We recommend a twin set for a symmetrical bedside hanging pendant or hang several different colored pendants over your dining room table for an eclectic and worldly feel.
Made Fairly:

 

These delicately textured and handcrafted woven pendants were made by groups of women in a small cooperative in rural Rwanda in an ethical, fair trade environment.

Meticulously Crafted:

 

Made of the highest quality natural sisal fibers in an ethical, fair trade environment. Sisal is wound stitch by stitch around a small sweet grass bundle. Handwoven by a woman in remote regions of Rwanda.
Artisans make things using traditional crafting methods in line with sustainable and eco-friendly practices.

The materials of the product can be broken down through environmentally harmless natural processes and are made from sustainable materials and plant by-products.

Products designed to cause the least harm to people and the environment through their production, disposal or both, often using reclaimed or recycled materials.

A formalized or witnessed organizational commitment to upholding moral standards including fairness, honesty, and expectations of responsiveness and accountability.

These products are made so that social, environmental, and economic standards are met to improve the lives of communities. Workers are ensured fair prices, livable wages, and direct and transparent deals.

Products made by hand on a small scale and are meant to last, all without using large energy-consuming factories and production facilities.

This ethical practise also aims to educate women and providing opportunities to support themselves, their communities, and encouraging other women to do the same.

Crafted with locally available resources typically derived from plants, animals, or other naturally occurring materials.

Materials that can be regeneratively produced like those made from plants and animals. This has a lower environmental impact compared to artificial products and metal.
Specifications
Product dimension: Approximately 14 inches D x 5 inches H
Colors/Variations, etc: All products are made by hand with love and vary slightly in color and size.
Product Care:

Made of natural fibers and grass; do not submerge in water.
If necessary, use a damp cloth to wipe or spot clean the pendants.
Avoid using chemicals or detergents.

Product of Origin: Made in Rwanda
Return Policy: Returns accepted within 30 days of delivery.
Shipping Info: 2 to 3 days, with one business day for processing.
Earth-friendly features
Features

This artisanal handmade lamp was made by women crafters in a fair trade and ethical setting using completely natural, biodegradable, and renewable resources that were obtained responsibly and sustainably.

Material(s)

Sisal: Sisal is a biodegradable, renewable, sustainable, drought-resistant, ethically grown plant, and is strong, durable, stretchable, moisture resistant, resists saltwater deterioration, stain resistant, and has a fine surface texture that accepts a wide range of dyes. Sisal fibers come from the leaves of the Agave Sisalana cactus. About 1,000 fibers are taken from a single leaf, and the rest of the plant is used to either feed farm animals or produce electricity, ensuring nothing of the plant is wasted.
Organic Dyes: Natural dyes are sustainable, eco-friendly, inexpensive, and very easy to source, being taken from plant sources like roots, berries, bark, leaves, wood, and fungi. It's also taken from certain insects and some minerals such as ochre. They are collected without the need to apply a manufacturing process, further diminishing its carbon footprint. Any waste from the process, and even the dye itself, is bio-degradable and non-polluting. Textile products colored with natural dyes are non-toxic, hypoallergenic, and baby-friendly.

Made Without

Plastics, Synthetic Fibers, and Synthetic Dyes

End Of Life

Completely Biodegradable and Compostable
For every

PRODUCT

you

PURCHASE,


a

Tree

is

Planted

in your

NAME.

* ALL SHIPPING IS 100% CARBON OFFSET